Ok peeps, I am warning you…you may find yourself licking the screen once you lay your eyes on these fantastic goodie!!
First a disclaimer…
***this treat is highly addictive, EAT AT YOUR OWN RISK***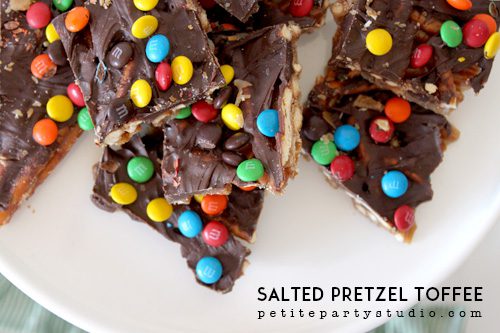 Every year I make saltine toffee for the holidays you may have heard people refer to this as "Christmas Crack" but we changed it up a bit and with our tweaks we feel it kinda looks like fun & festive holiday lights, plus…"Holiday Lights Toffee" rings a little cuter than "Christmas Crack".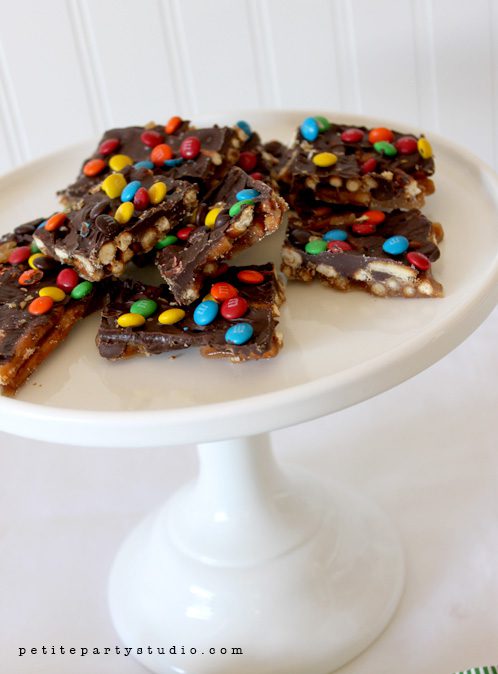 Perhaps it is our love for all things salty & sweet so we took this popular recipe and kicked it up a tad by substituting pretzels sticks for the saltines, added some color with mini M&M's (holiday lights) and topped off with a dash of sea salt.  Drooling yet?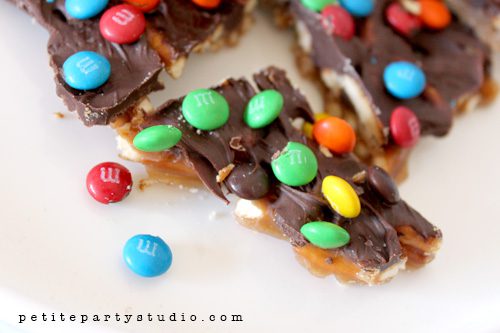 Go ahead take a bite (:  Wanna make some?  Here you go!
Items Needed:
10×15 pan lined with foil
1 cup of butter
1 cup packed light brown sugar
Rold Gold Pretzel Sticks
Nestle Chocolate Chips
Mini M&M'S
Sea Salt
Preheat oven to 400 degrees.  Line the 10×15 pan with enough pretzel sticks to cover the bottom.  In a medium sauce pan over medium heat, melt down butter with brown sugar and bring to a boil.  Boil for 3 min.  Pour the mixture over the pretzels as evenly as possible.  Now, place this in the oven for 5 minutes. Remove from the over and sprinkle with chocolate chips.  Wait a few minutes for the chips to melt and spread evenly.  Next, sprinkle the M&M's on top and finish with sea salt.  Refrigerate to set and cool.  Once hard, break into small pieces and eat  place into containers to give as gifts!
Grab some treat boxes, some paper ribbon and printable gift tags and you are all set to gift!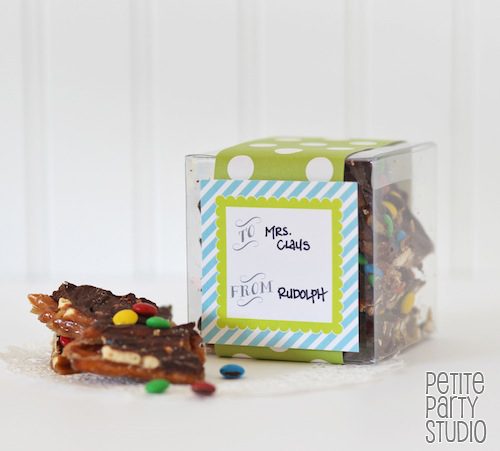 AND…we'll give you a head start by giving you these FREE printable gift tags!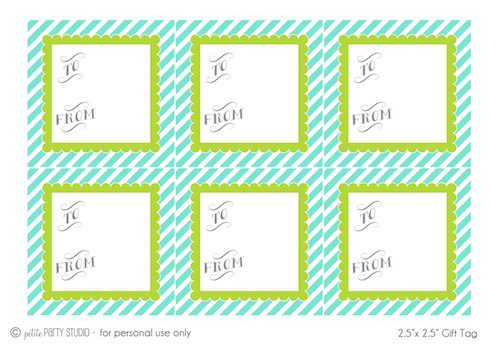 Gift Tags A