We LOVE Instagram!!  So we thought it would be fun to do a little room tour of Bennett's Nursery since it probably won't be a nursery for much longer.  They grow up so fast!!
Well here we go!  For some interest above the crib I painted horizontal stripes framed in with some white trim, added a simple shelf, a framed art printable and a chipboard letter painted white.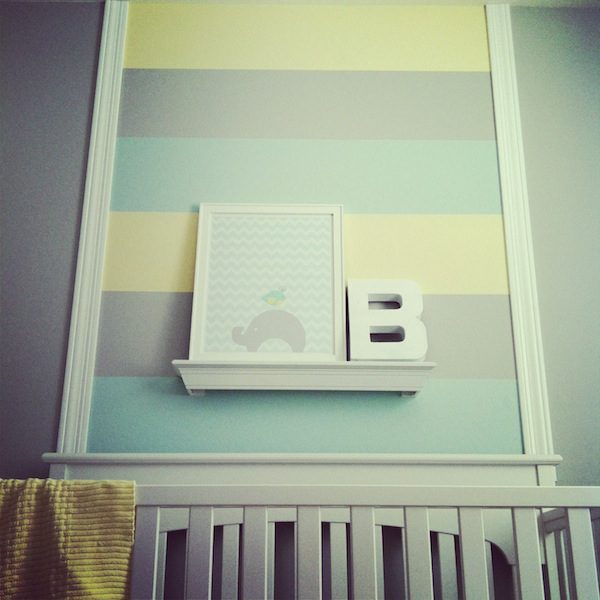 This darling side table was husband's when he was a little boy…I have painted it a few times so with some work we tranformed it into this seaglass gem!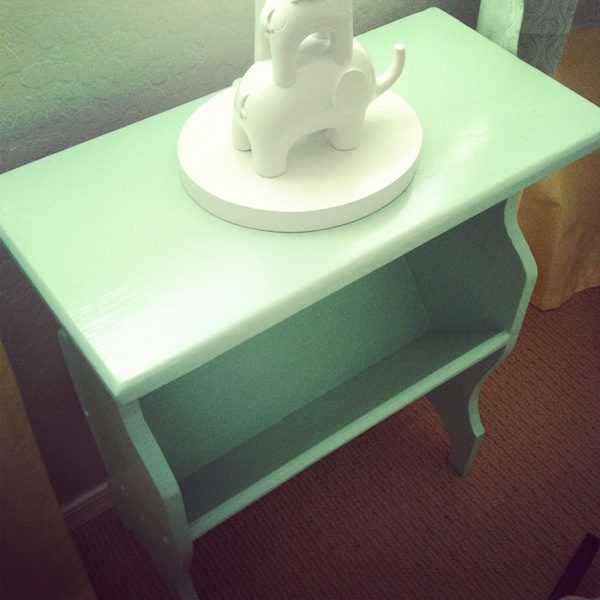 This dresser has been passed around to a few rooms in the house and found its way into  Bennett's room.  I brushed on a fresh coat of white paint and added new hardware.  On the side of the dresser I attached a peg rail to hang misc items from.  The changing top was from PB Kids that I painted with Martha Stewart Interior Paint – Seaglass.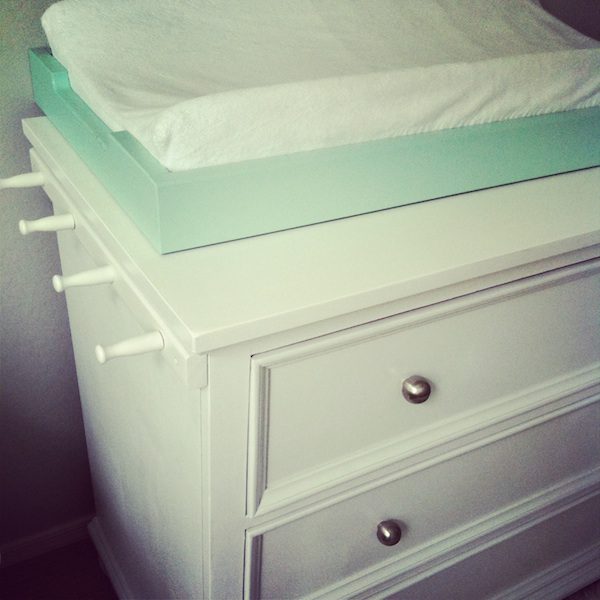 My super sweet and talented friend Dawn from Sassy Talk made this for me and it is a keepsake I will forever cherish.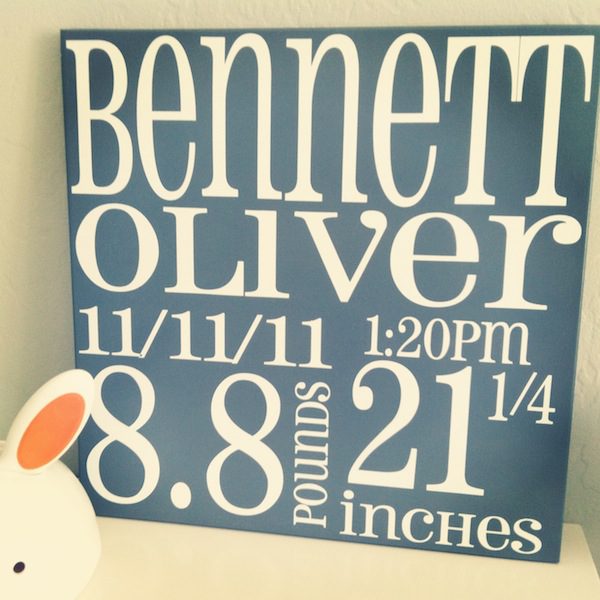 Store bought curtain panels are never long enough so with a little help from my trusty sewing machine and my girl Martha Stewart, these panels from Home Depot were perfect once I added a band of fabric across the bottom.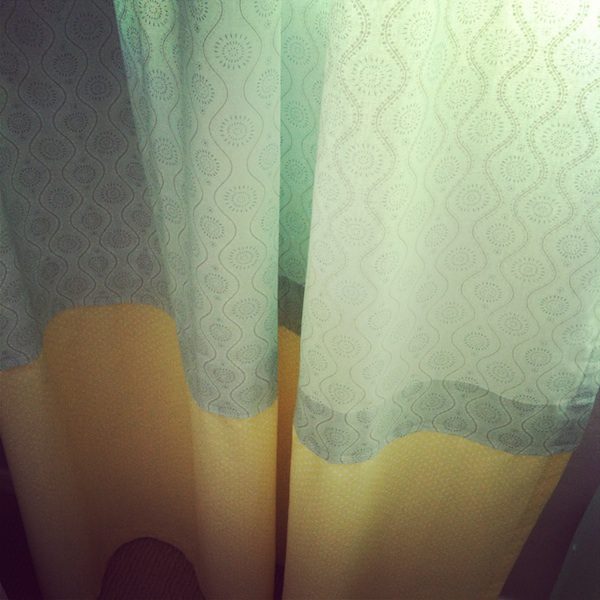 Needing additional storage, I removed the doors to the closet and made my own version of built-ins.  I also added decorative paper to the backs for a little extra flair.  This cubicle piece and fabric bins are also by Martha Stewart at Home Depot.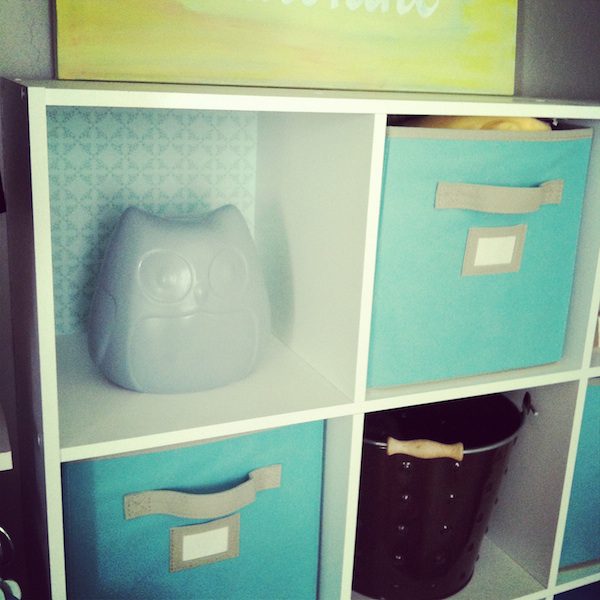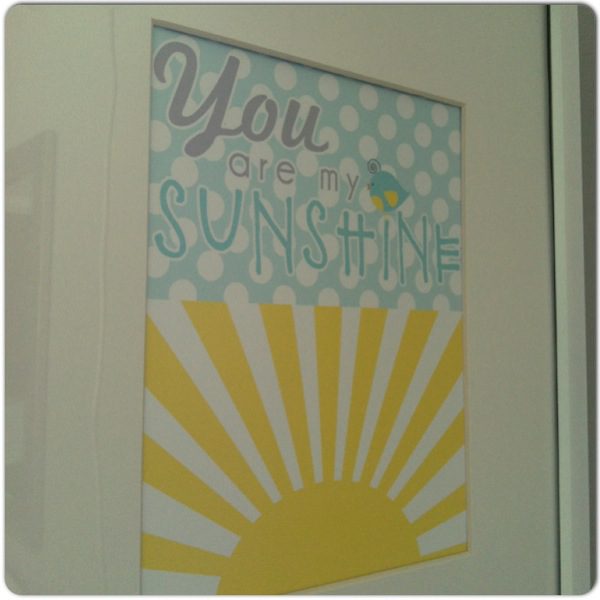 This little elephant is one of my fave pieces in the room.  I found it for $2 at the thrift store.  A little spray paint and it made the perfect decorative accessory.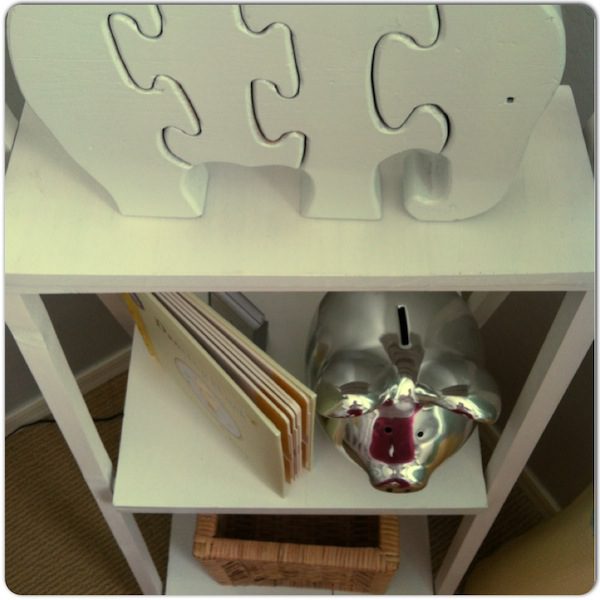 This lamp was repurposed from the previous nursery and happened to match the entire scheme perfectly.
I searched and searched for a sweet little lamp and found this one…the original lamp was pink and brown, but with a few coats of high gloss white spray paint, I was all set!!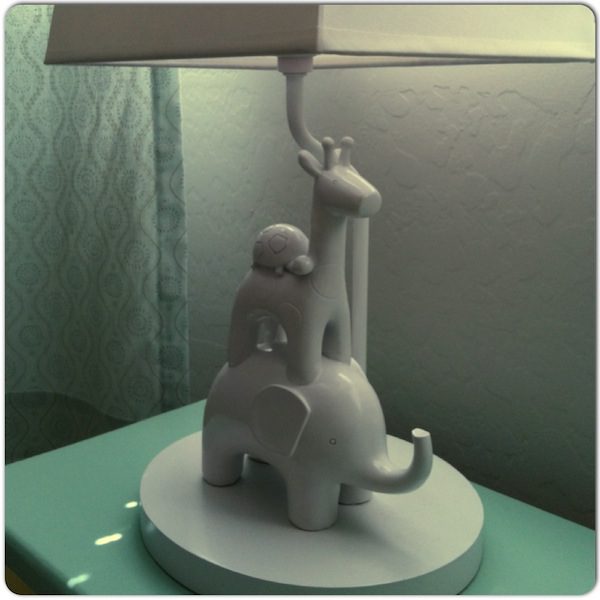 This little guy was also pink at one time but now he is a soft gray thanks to some more spray paint!
The final stop of the tour is with the fab little rocker we found a few years back at Pottery Barn Kids.  I have used it in the last two room and the kids LOVE it.  It adds just enough whimsical touch with its rocking horse presence and cabel knit coat (;  They don't have this one anymore, but here is a link to a similar one
Nursery Horse Rocker from Pottery Barn Kids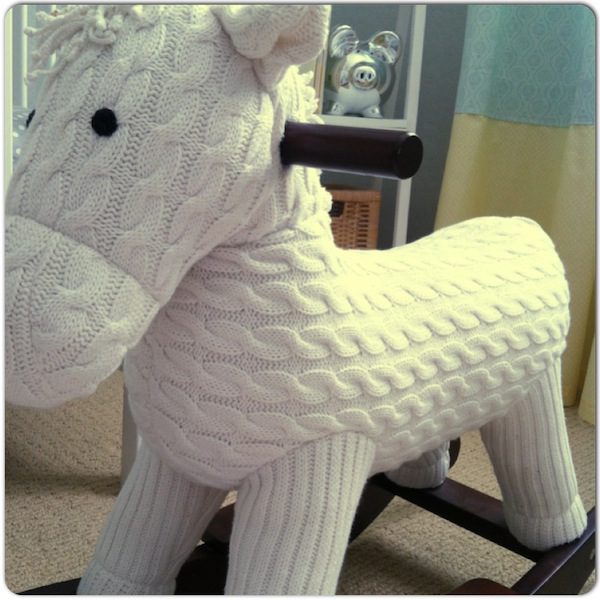 All of the wall paint was Behr Paint from Home Depot
Here are the colors used:
Wall Color – Dolphin Fin (gray)
Stripes – Banana Cream (yellow), Glacier Bay (Aqua) and Dolphin Fin (Gray)
So there it is…my little man's Instagram Nursery Tour.  Not following us yet?  Find us on Instagram @petitepartystudio or hashtag us #petitepartystudio