A few months ago I kinda dropped the mother-load of posts on you and let all of you peek inside my personal life and our recent diagnosis with B#1.  We have had tremendous support and we sincerely appreciate all of the notes and kind words.  So…B#1 turned 5 in May and we thought this would be a great age to take the him and the other two boys to Disneyland for his birthday.  In fact, we decided that for each 5th birthday, a trip to Disney would be an amazing & memorable way to celebrate.  Once the Mr. and I made that decision, the planning began.  Now for all of you that have made the trek to the happiest place on earth know that this can be a HUGE task to take on.  So planning a trip with our sweet B, we knew there needed to be areas of focus to make sure he was ok.  He tends to get overwhelmed in crowds, has some sensory issues with noises and lights.  Most of the rides there could easily trigger some sort of panic.  We were both very nervous about a potential DD (disney disaster).  So what did we do?  Well, we planned, planned and planned.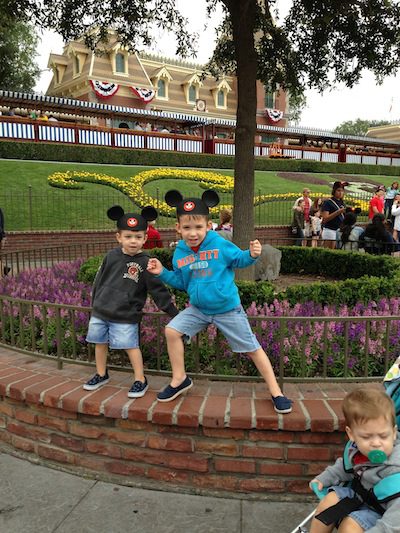 Two years ago we went with the older two and I was pregnant with B#3.  Funny thing is that B#1 NEVER FORGETS ANY DETAILS ABOUT ANYTHING…I mean NOTHING, yet had no memory of this trip.  We think it may have been too much for him then and at that time and we did not know of his challenges.  So we believe it was his choice to block it out.  Since we had been to the park two years prior, we had a pretty good idea of the route that we wanted to navigate through.  First we stopped at guest services to obtain a special pass that allowed us to access an alternate entrance to most of the rides.  This was crucial…it saved us from situations that could have turned into full blown panic attacks for our little B.  All I can say is that we got him onto the rides.  Was it the reaction we had hoped for at such a fun & happy place?  Not really, but it pushed him a little outside of his comfort zone and taught him that he will be ok in certain situations.  Little things like not getting to ride on a specific colored dumbo was pretty catastrophic but we put him on the ride anyways…tears and all…and then heard about it for the next hour or so and pushed on.  To onlookers, it seems so remedial like he was a spoiled brat that didn't get his way, but it goes beyond that…why would the color of the dumbo matter to a kid his age, but with B…the entire time waiting in line that is ALL he could focus on.  I think it is about the control and when there is a disruption in that control…the panic sets in.
So all in all, day 1 was a succes!  No major setbacks but we also knew how hard to push.  We knew that come 5pm it was time to go and try more the next.  Did I mention that we brought "the nana"?  Yep, it was a must!!  My mom was a huge help and it also gave us man-to-man coverage…bonus!!  Once the kiddos and the nana were tucked in bed, me and Matt took off back to the park for a little late night Space Mountain action.  SO.MUCH.FUN!!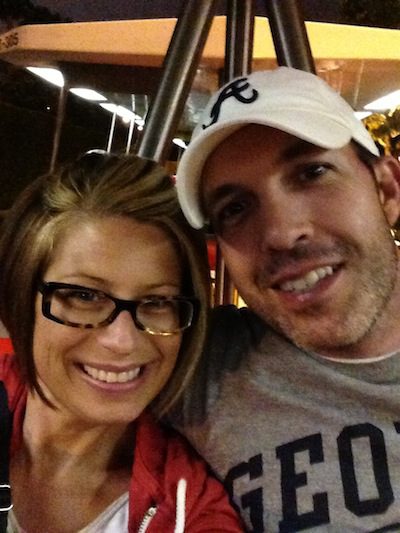 On day 2 we headed for California Adventure…B was insistent on seeing Carsland.  Such a cool place!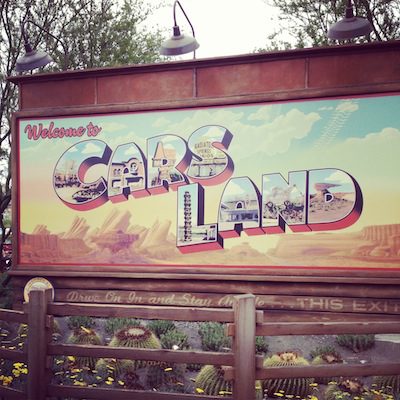 It feels like you stepped right on to the set of the movie.  We thought B would be elated but instead he was focused on buying a car that had a license plate on it.  This was all he could talk about, so we found a gift shop.  All I could think to myself was please…let there be a car he can buy that has a license plate.  Well…we let him roam the aisles…frantically searching for the vehicle that was "just right".  We found some and showed him and he just shook his head…"nope…not that one" and the hunt continued on.  The nana told him he could pick ANYTHING he wanted and all he turned up with was one hotwheel sized car…with a license plate.  So with the purchase in hand, B mentally left California Adventure until we got to the Radiator Springs ride.  He showed some excitement but wanted to make sure he could drive.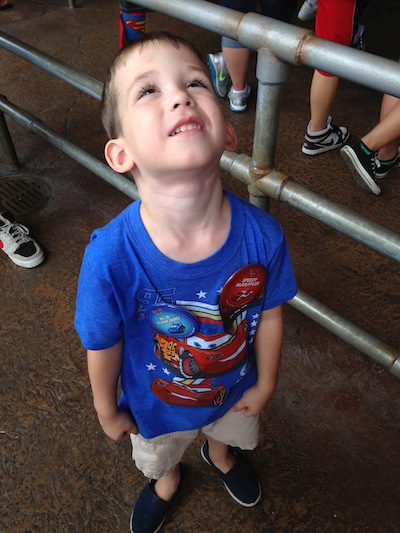 When we approached the front of the line we made a special request to please allow us to sit in the front row and they were happy to accommodate.  We belted ourselves in and immediately B's hands went vertical…"whoo-hooo!!…YES!!!….Woooooo!!!!  Cool!!!"  The ride had not even started…LOL…and off we went…zipping thru radiator springs with our little man as happy as could be!!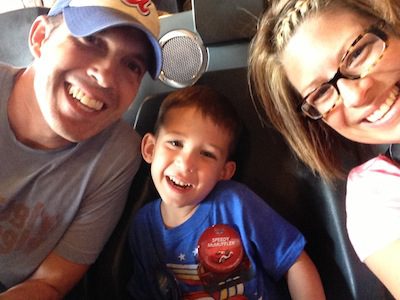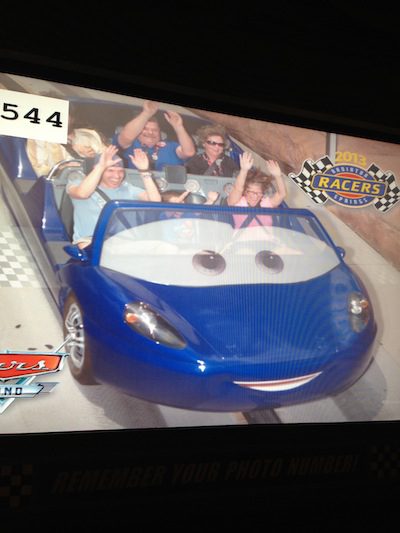 The ride came to an end, we exited and off he went, back to B-land and his car with the license plate.  The rest of the day was pretty uneventful but we headed back to the main park and finished up.  Overall the trip was a success, B#2 had a blast and that is ALL he could talk about, B#3 was such a good baby and seemed to enjoy himself…and the nana?  Well, she did great too!!  B#1 did better than expected with no major setbacks.  It was a great family trip and we will return in 2 years when B#2 turns 5.  So, thanks for following along and we wil keep you in the loop!!  Hoping your summer is happy!!  xoxo~rebecca