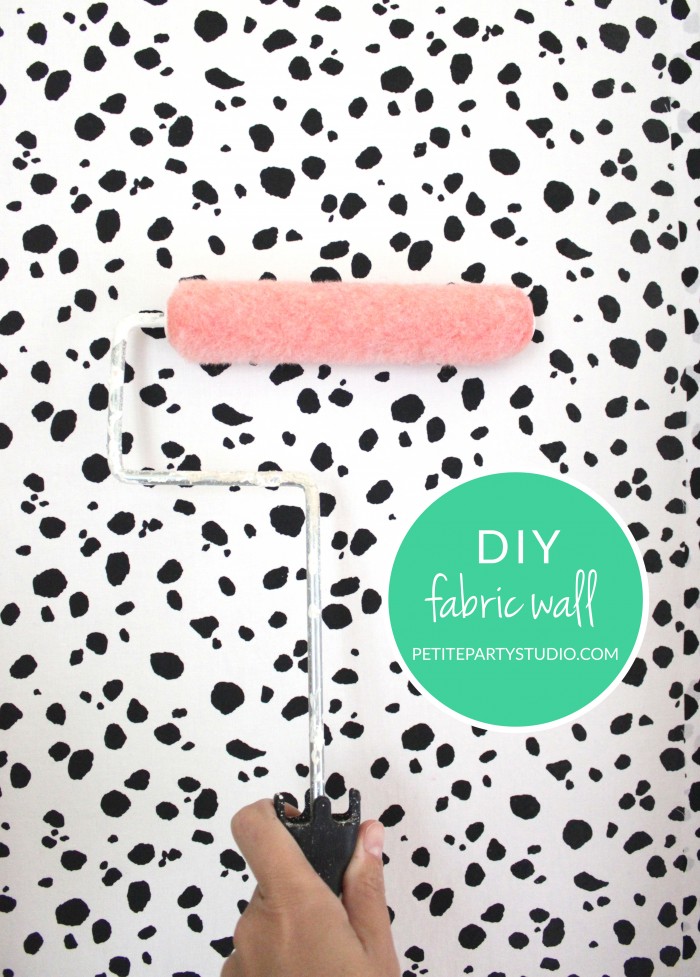 Last week I decided to tackle my dining room for a little makeover project. How about a Dalmatian Print Fabric Wall DIY??  I LOVE wallpaper and I really wanted to add it to this space….however, we live in Arizona and most production builders texture their walls.  My builder used a knock down style of texture and although it is not too heavy of a texture, I wouldn't recommend hanging wallpaper without floating the wall first.  I had a handyman float my wall in our master bedroom for the wallpaper but for this project I thought BUDGET first!!  I looked into wallpaper and the paper I was eyeing up would have cost around $450.00, not including supplies.  So…after digging into my design archives, I remember a friend of mine from high school always had a beautiful home and her mom would put fabric on the walls.  I always thought this was a brilliant idea and lemme tell ya…waaaay more budget friendly, my entire wall was only $50.00!!!  Whaaaat?!!!  $50 bucks?! Yeppers!  I found the fabric at Hobby Lobby on sale and then I searched for a way to attach the fabric to the wall.  There are tutorials all over Pinterest…corn starch, staples, wallpaper paste, and fabric starch.  Fabric starch seemed to be the best option since it washes away with some warm water and is the least permanent.  I found a great tutorial on Apartment Therapy.
Here is a peek into the before…this was taken even before our flooring was swapped out.  Yikes!!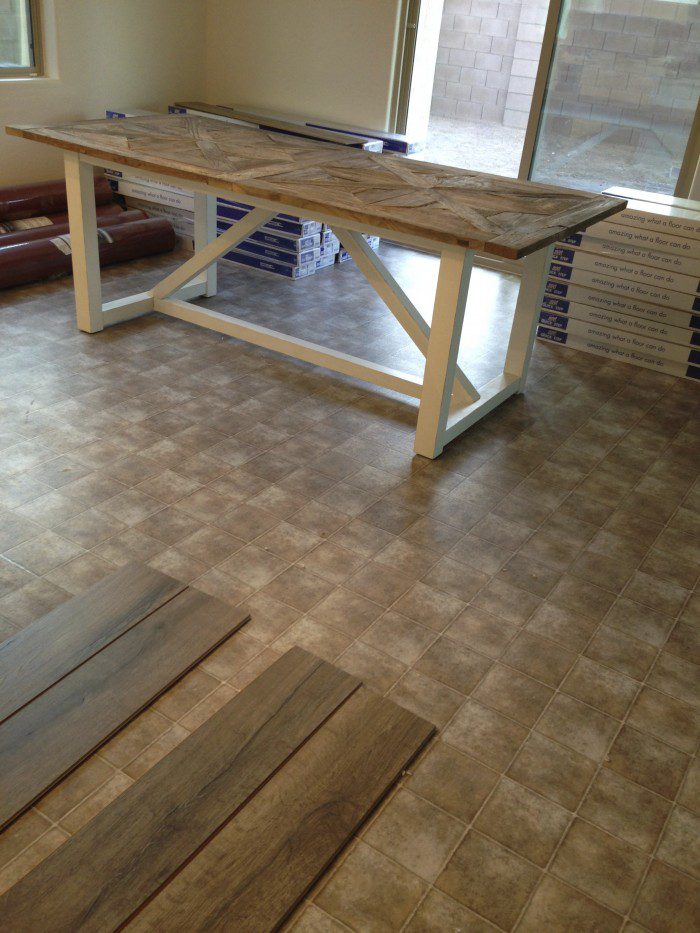 Here is the AFTER…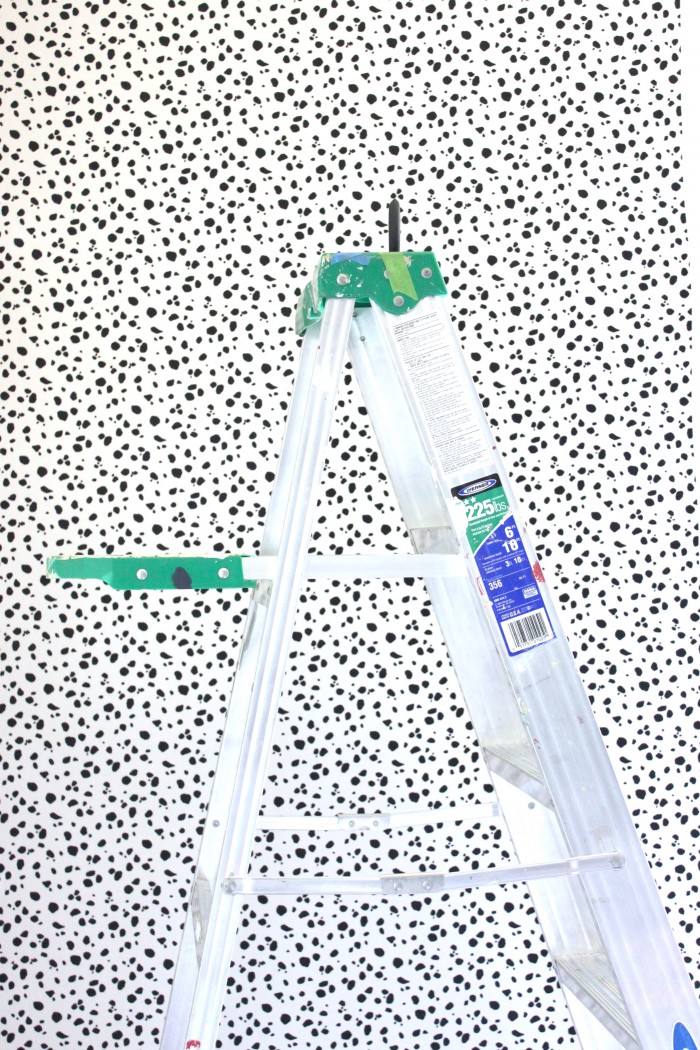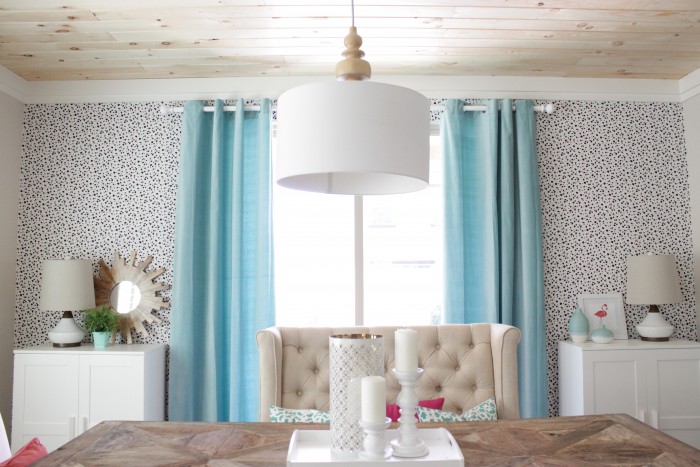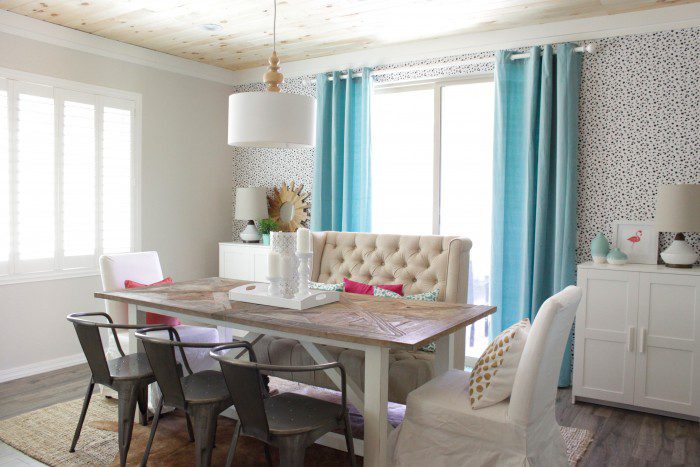 and here is the HOW TO…
Before I fully committed, I did a test swatch of fabric to see how it would look over the existing paint and texture.  After it dried you could barely see the texture and had a great matte finish!!
I knew I HAD to get started!!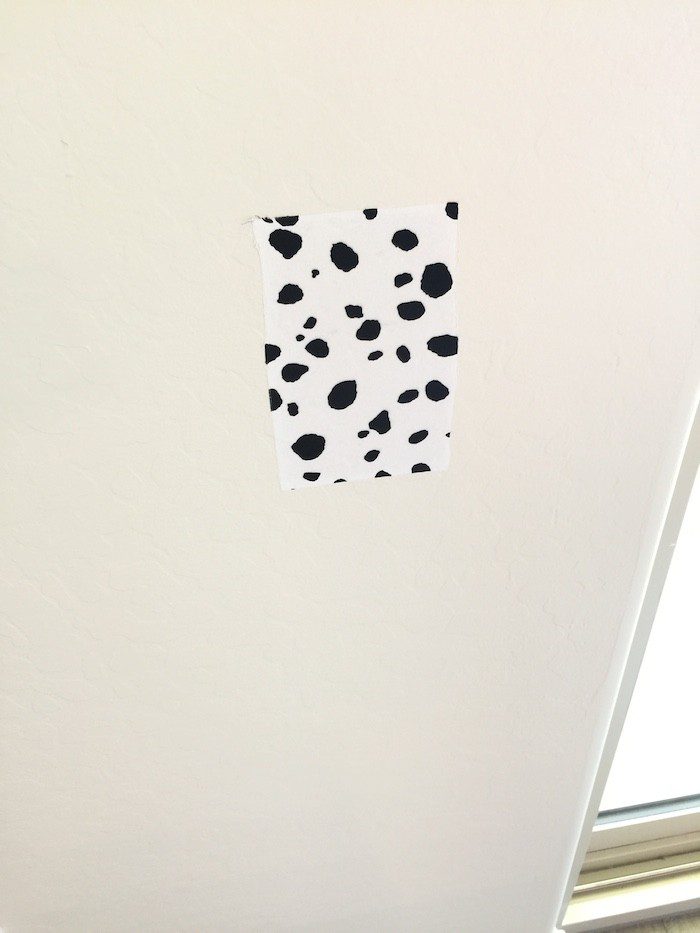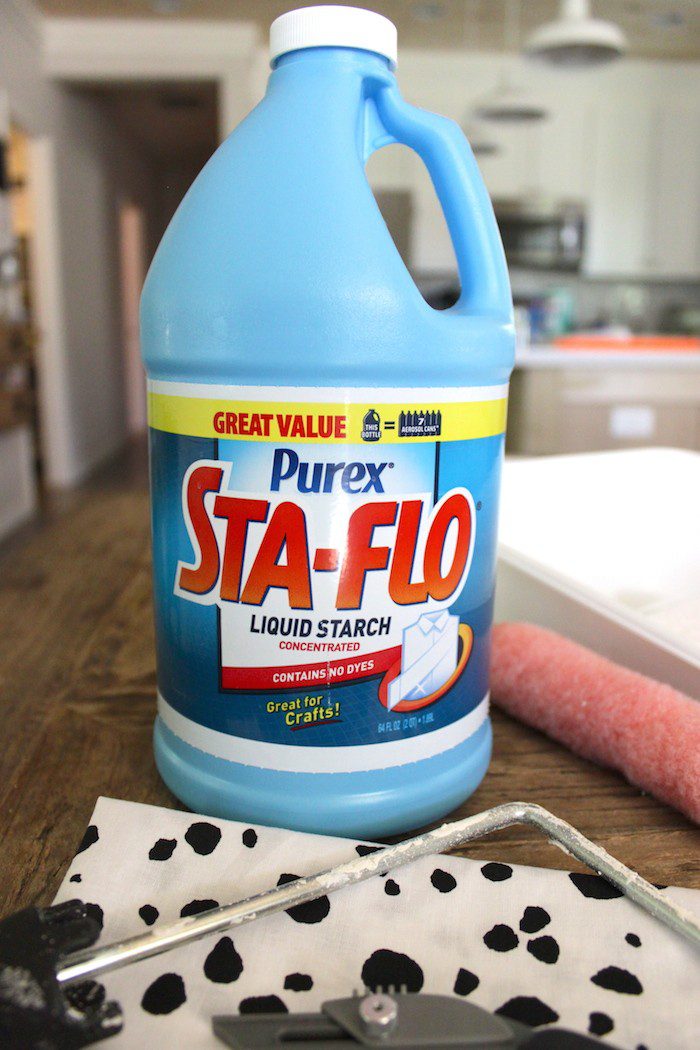 You will need the following:
– paint tray
– paint roller
– fabric (yardage will be based on wall size and fabric used, keep in mind when calculating yardage that crafting fabric and home dec fabric are different widths)
– exacto or utility knife
– sponge
– drop cloth
– painters tape or tacks
– scissors
– Liquid Fabric Starch (I found it at Walmart…oh and I also need 2 bottles)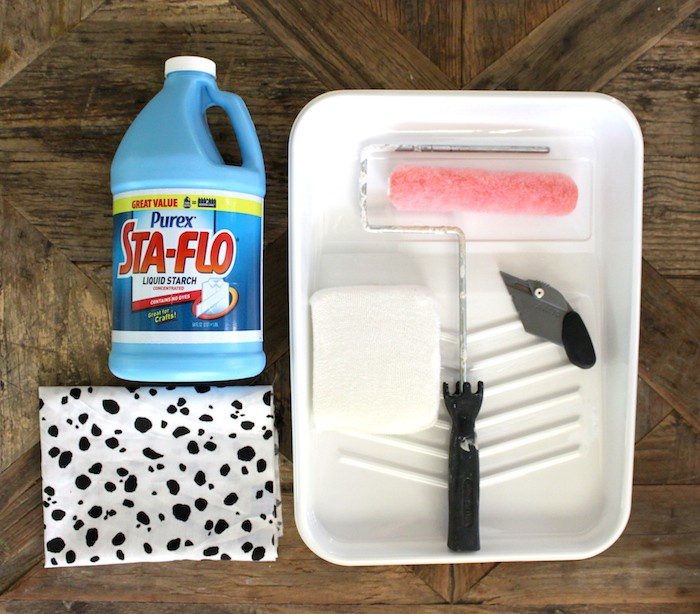 I started by taking down all of my curtain rods and art.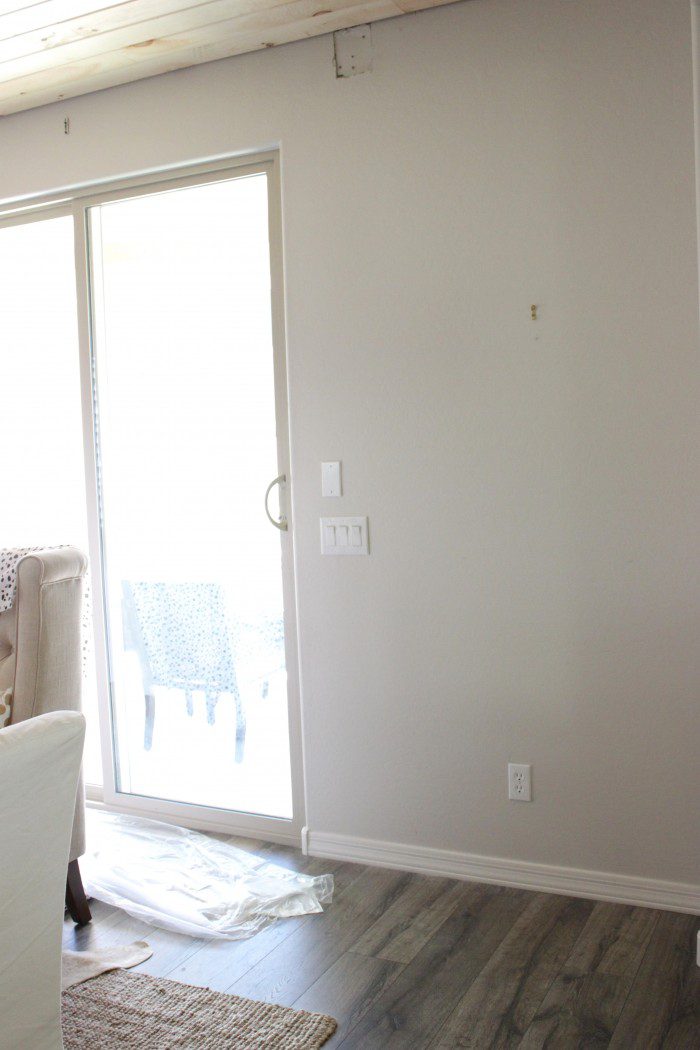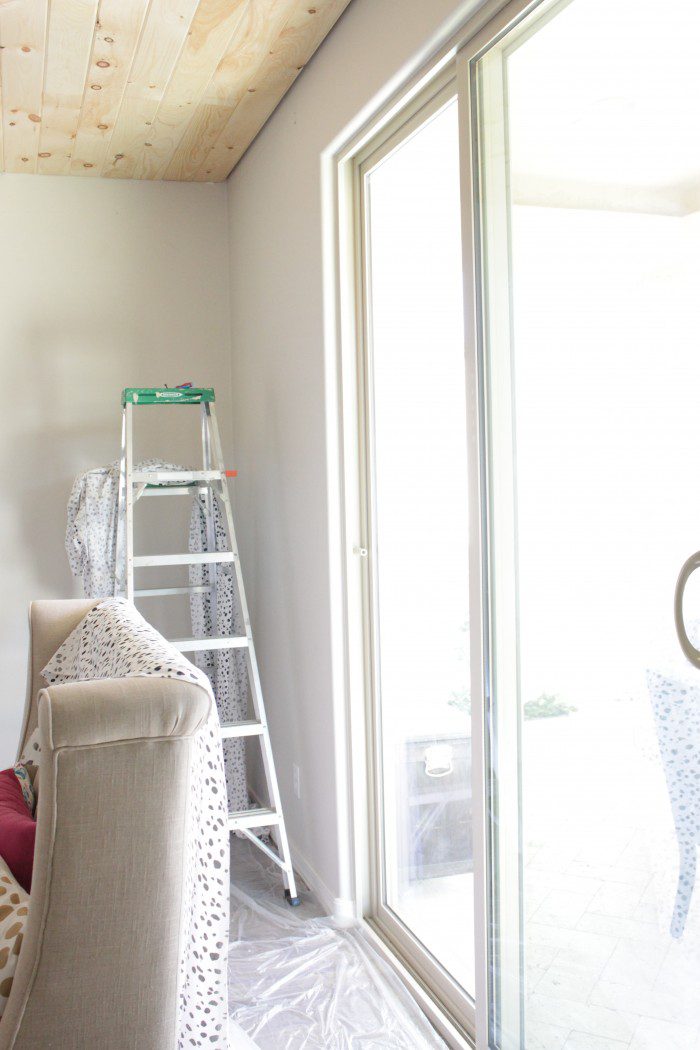 I figured out the length of the first piece and then added 1.5″ to the top and bottom to allow for any shrinkage.  Don't worry about making sure the top and bottom edges are perfect because you will be trimming them off.  In this case we were adding crown to the top so I only had to trim the bottom.  I started by rolling some starch to the wall, then I positioned the fabric with the help of my hubby and tacked it near the top while I continues to apply starch on top of the fabric.  I most def recommend having an extra set of hands to help!!
Make sure to saturate the fabric with the starch so that it soaks thru to the wall.  It can get a little messy but that is what the drop cloth is for.  I started at the top middle and worked my way down and out pressing out any air bubbles as I went along.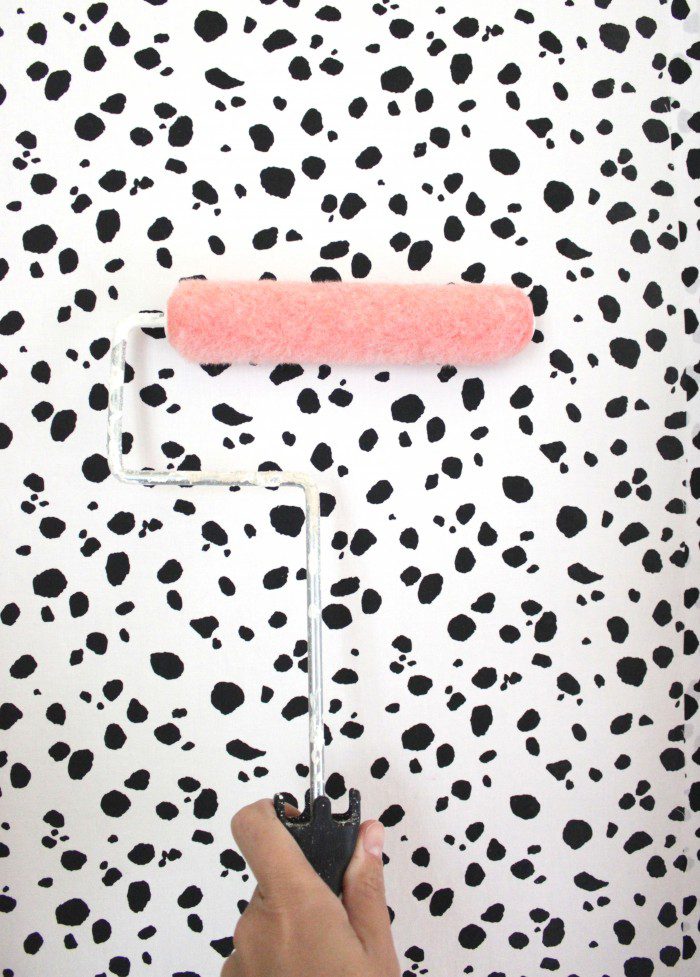 If you look closely, I left an inch of overage on the left side.  I waited about an hour and a half for the first piece to dry to allow for any shrinking before starting the next piece.  For the next piece, I trimmed the selvage edge with really sharp scissors to avoid frayed ends.  Since this was crafting fabric with a smaller pattern, I didn't worry too much about the repeat.  Home dec fabric will give you that info so if you want, you can figure out drops and repeats a little easier.  I made sure the pattern was running the same direction and as close to the repeat as possible.  With a 1/2″ overlap to the first piece,  I started on the 2nd panel.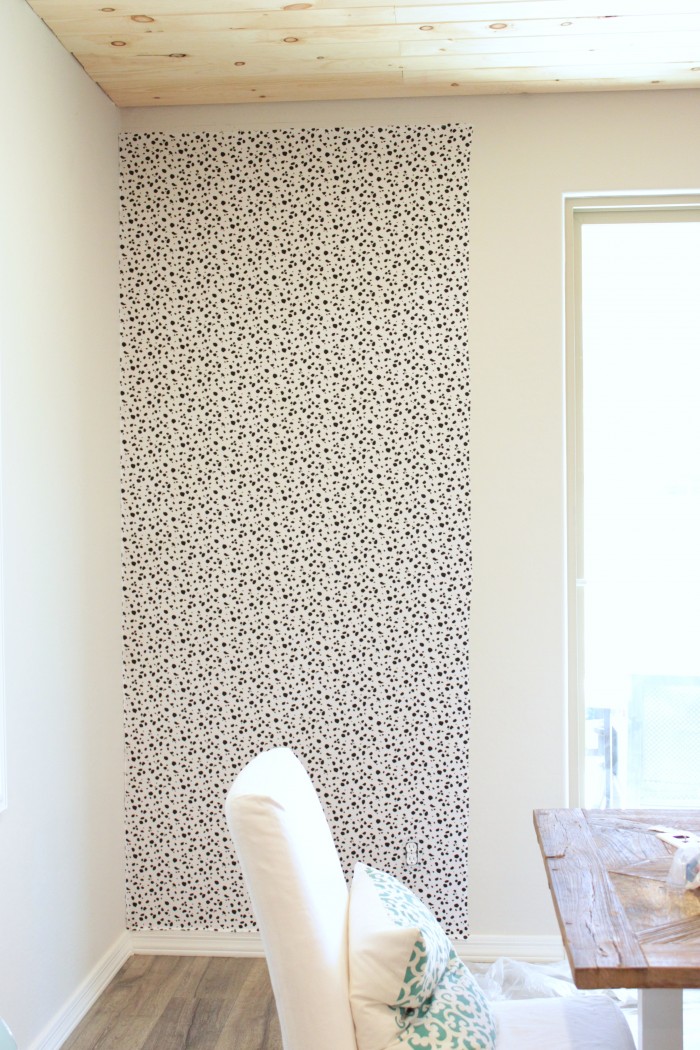 In this pic you can see the seam a little better, but it's not too noticeable.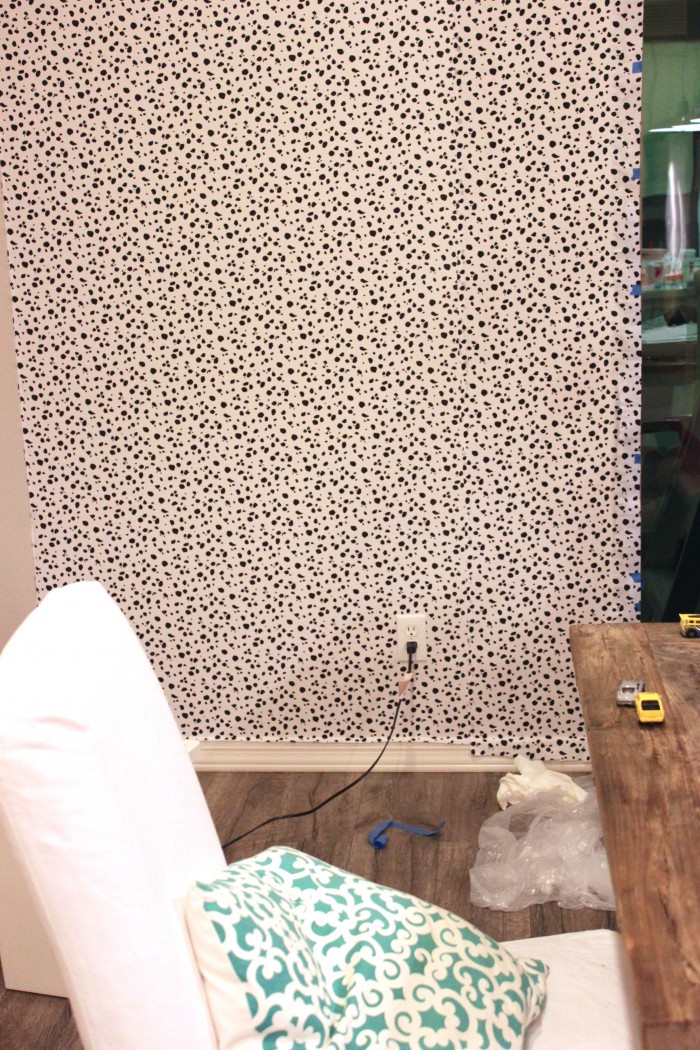 While the left side was drying, I moved over to the right.  Once I got to the middle I had to work around the door.  You can see that the area around the door is a little darker…this will be the case until the starch dries.  Once all of the fabric was dry, I used a level and an exacto knife to trimmed around the door, sides and baseboards.  I left the top as-is because it was going to be covered by crown molding.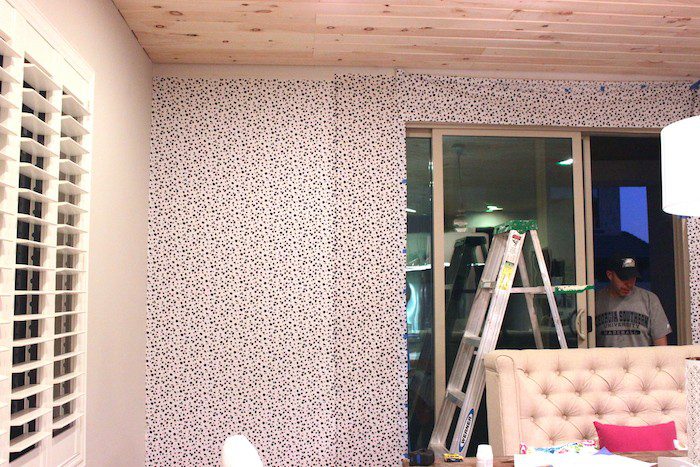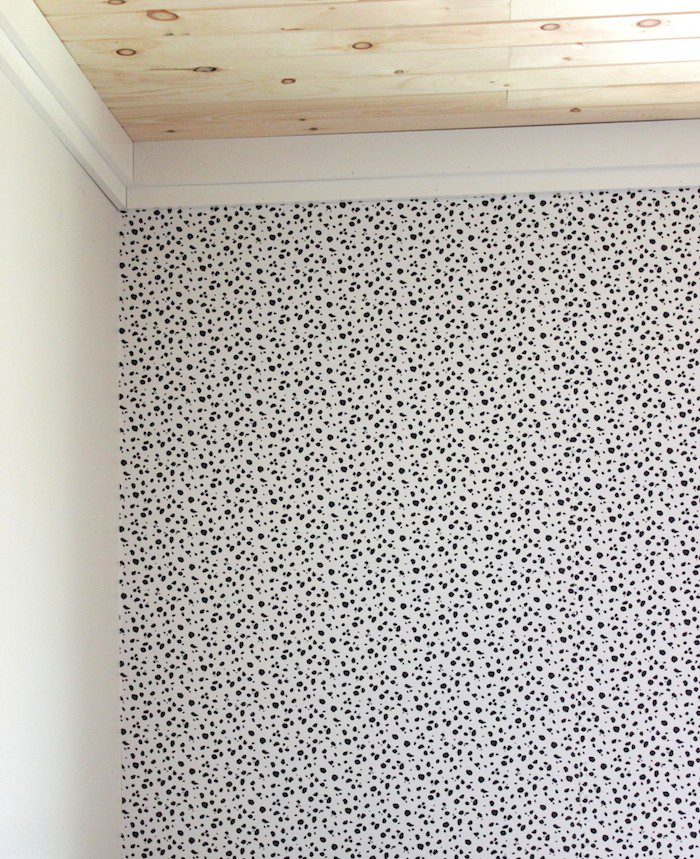 That's it!  It was a really easy DIY to tackle…I promise!!  So enough rambling for now, let's look at some pretty pics!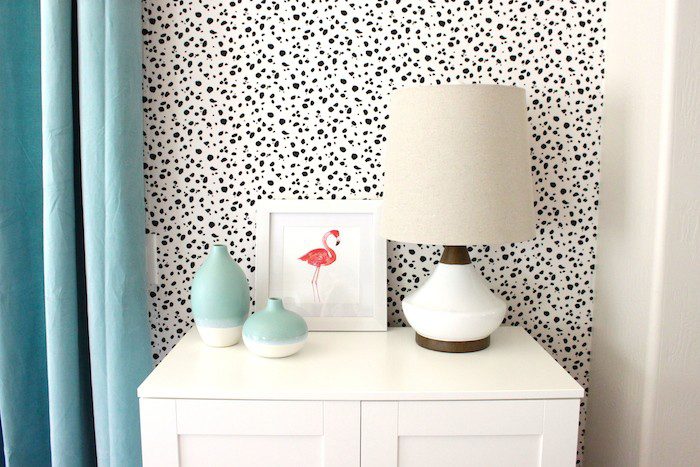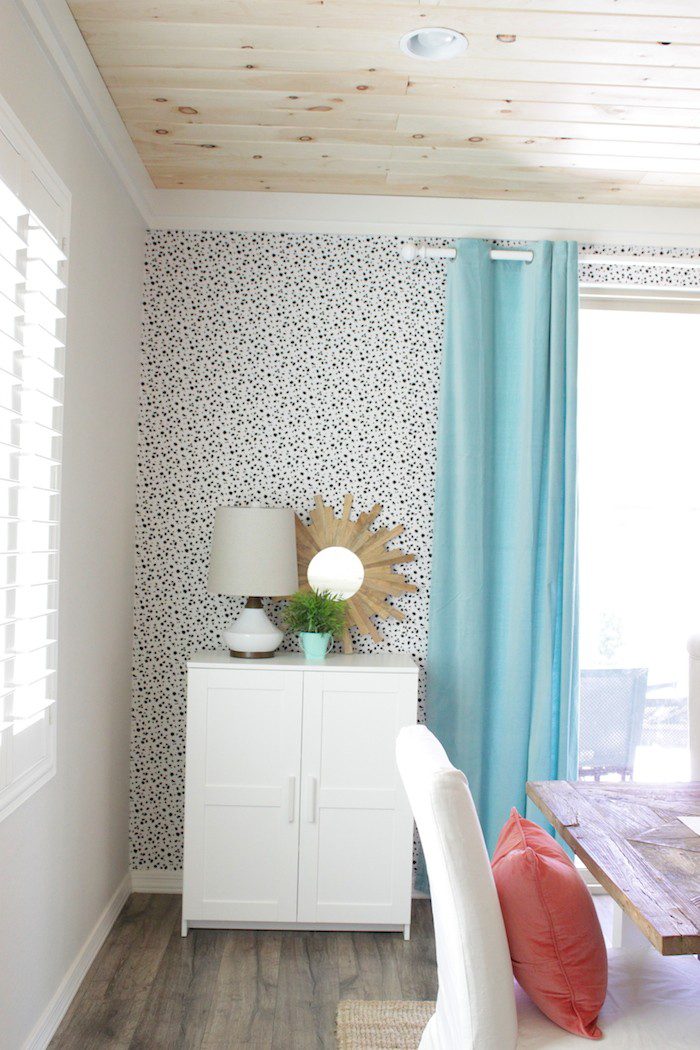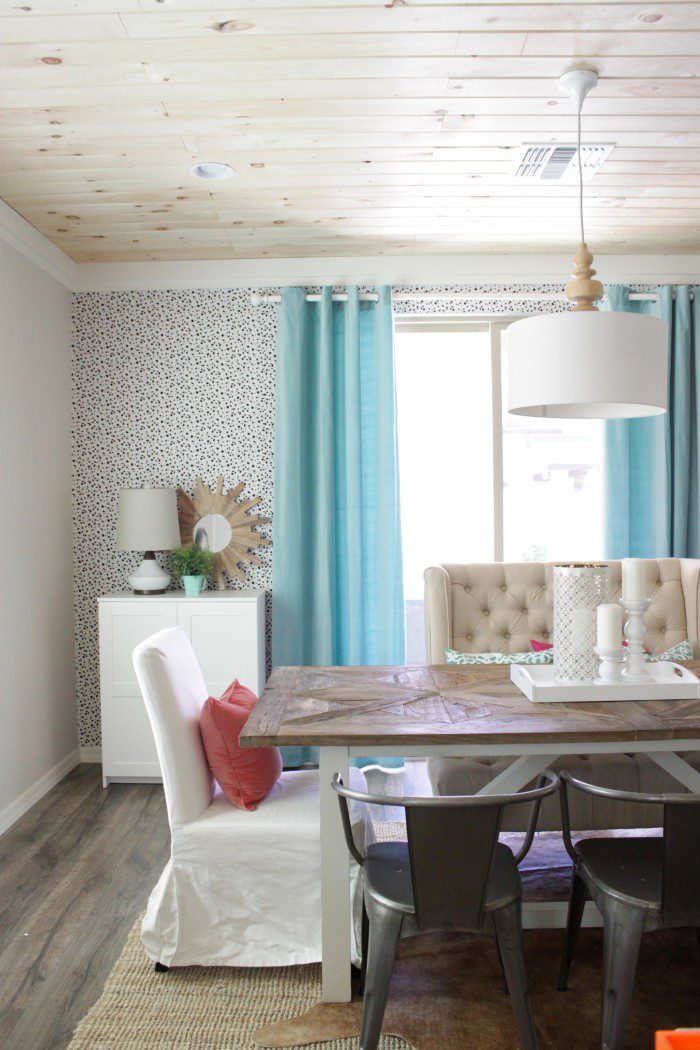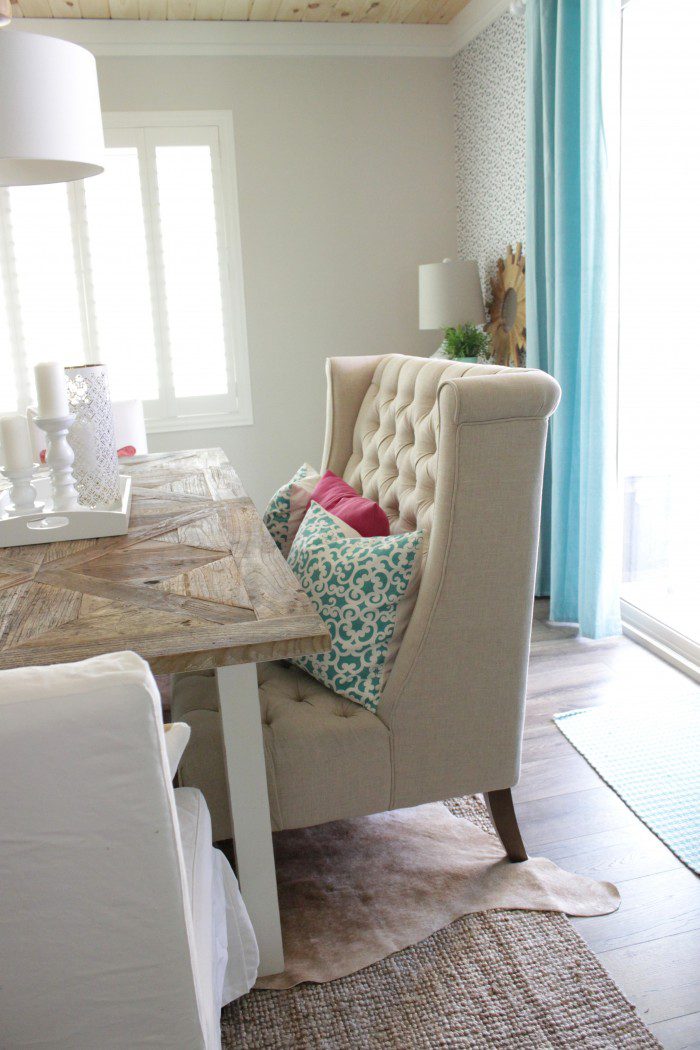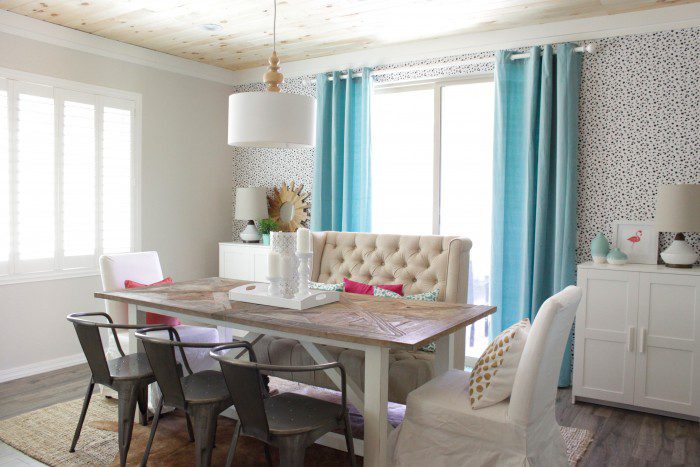 The jury is still out on the window panels…I have another set that I made that I really love the play on patterns so you may see them appear next week along with some other finishing touches!  Do you feel ready to tackle your own fabric wall?  Post on instagram and tag #PPSDESIGN we'd LOVE to see what you dream up!!