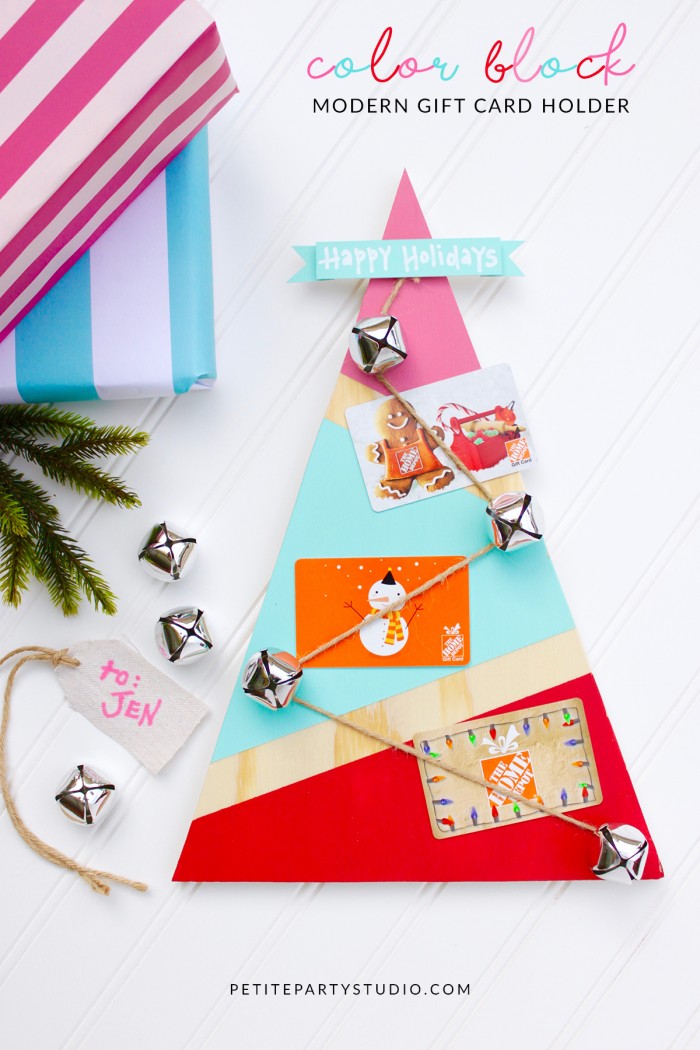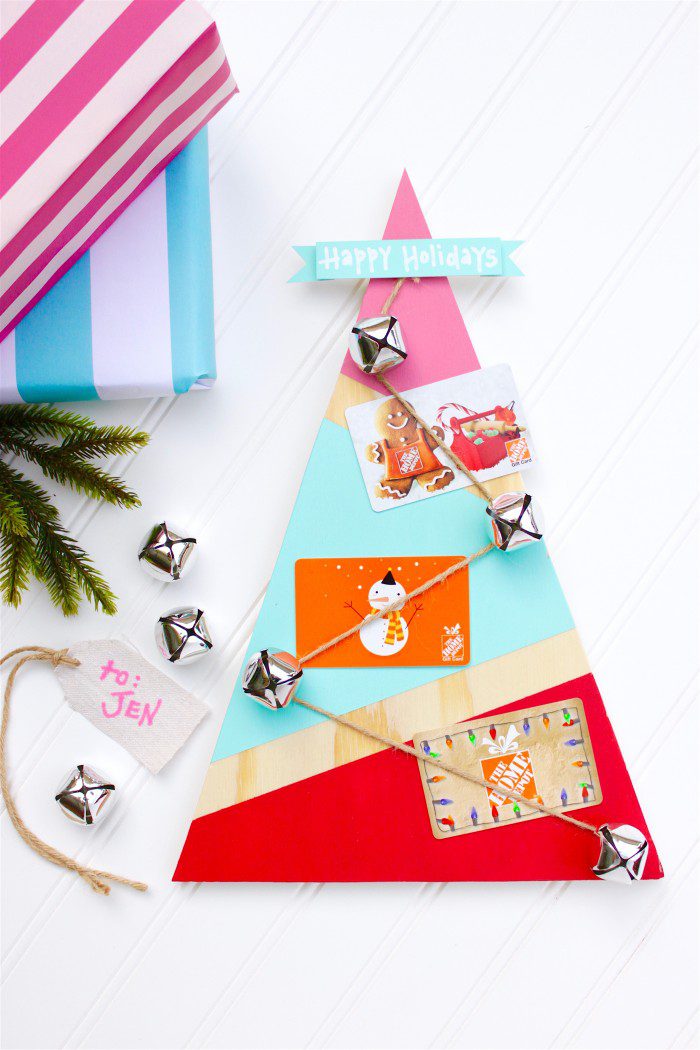 In our house Gift cards are the PERFECT way to gift this holiday season!!! Just a little shameless plug to my husband if he is stuck on what to buy me this year!! Anyways…I am ALL about the presentation. I have heard over the years that gift cards can be so impersonal, BUT I strongly disagree. Gift cards have come a long way. I remember when gift cards were really "gift certificates" and plain ole pieces of paper but now…LOOK at how bright, happy and fun these little plastic gems are???!! You can find one to fit everyone on your holiday list! Get these darling gift cards and e-gift cards HERE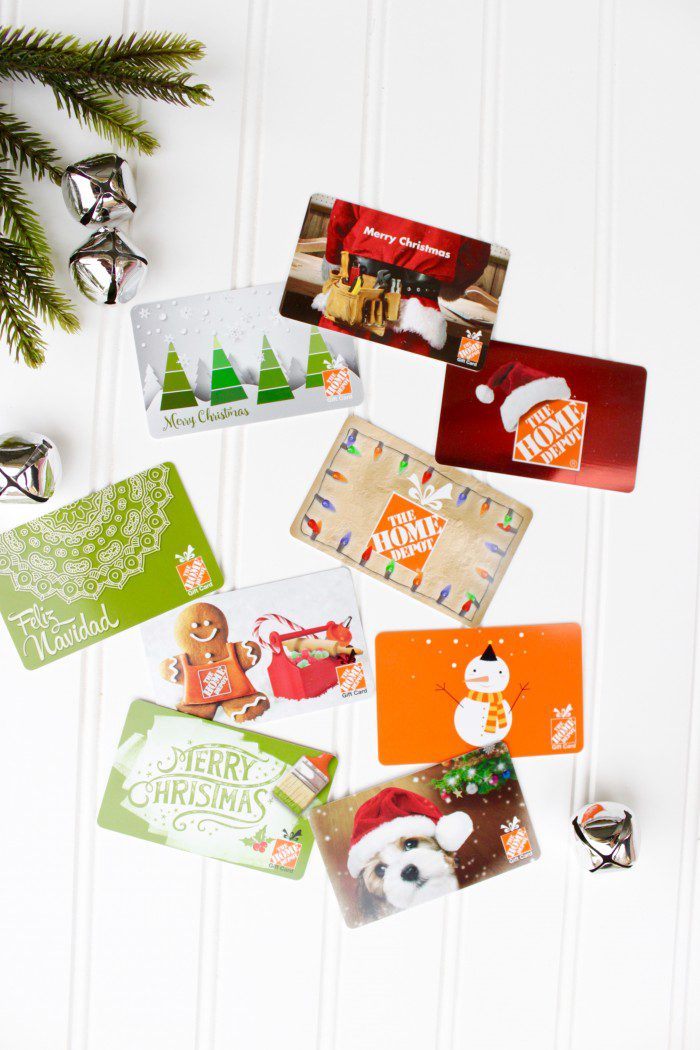 When you create a special way to gift them, this is where the holiday magic happens. I love to DIY & create and I was super duper excited to create this Modern Color Block Gift Card Holder. I love giving (and receiving) Home Depot Gift Cards because you can ALWAYS use something for your home.
Here are all of the supplies and steps to create your very own DIY Modern Color Block Gift Card Holder:
Jingle Bells (available in stores)
Behr Paint Samples in choice of colors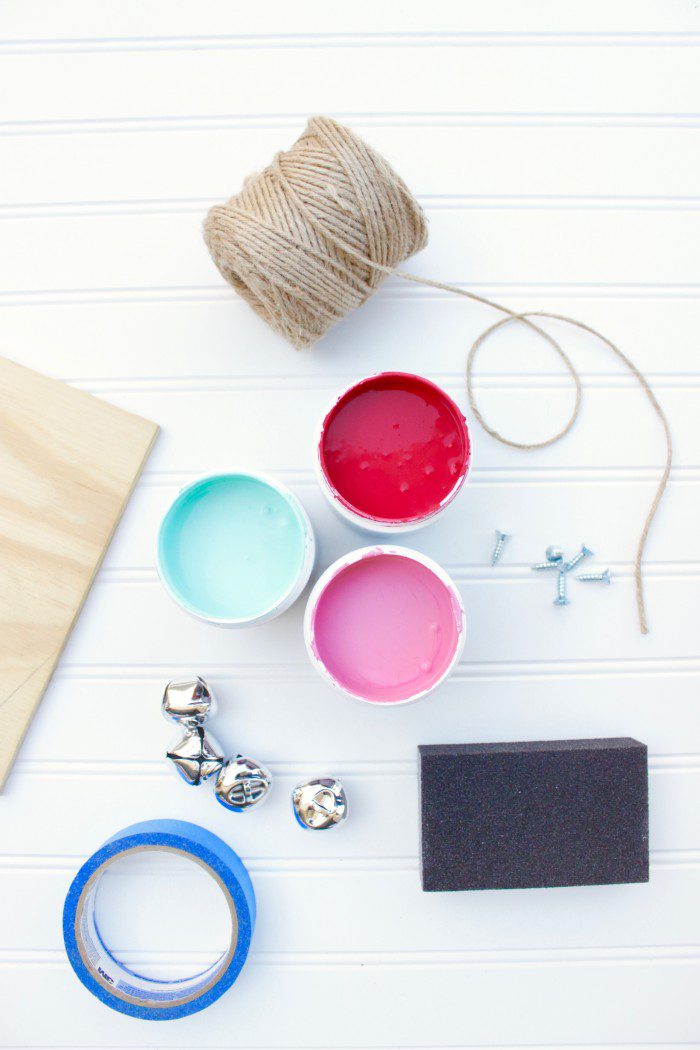 I started off my measuring a triangle onto my plywood that was 10″ wide and 14″ tall. Using my Ryobi Jig Saw, I cut out the tree shape, then lightly sanded the edges.
Next, you are going to want to decide where your screws will go and pre-drill the holes. Pre-Drilling the holes with make sure the wood doesn't split.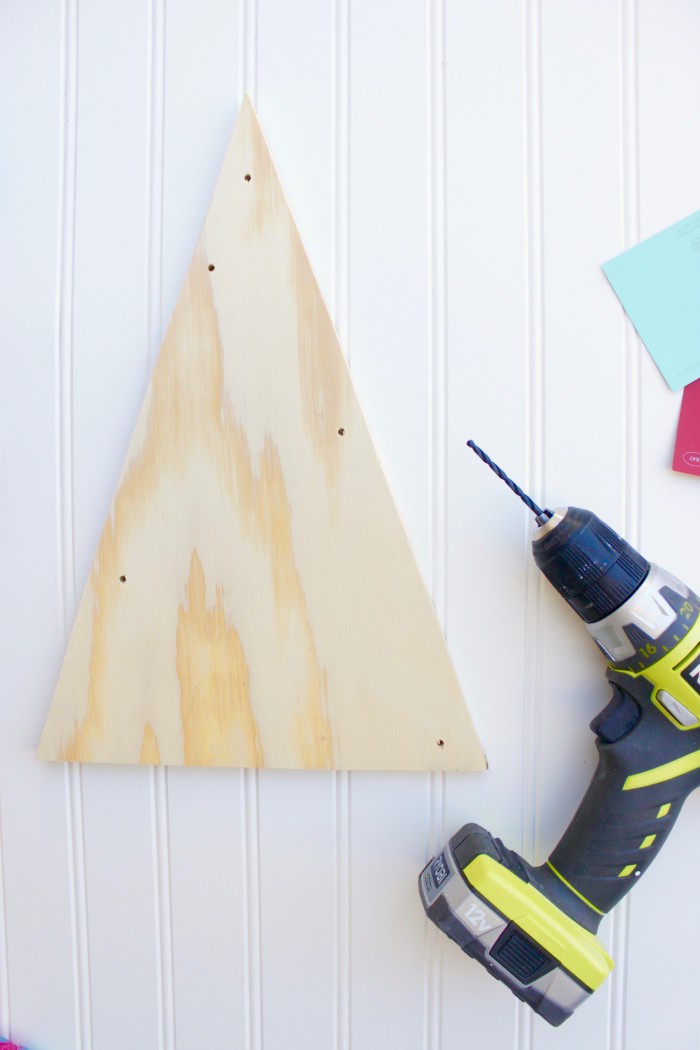 Now, you are going to tape off the areas that you want to paint. I am a big fan of color blocking, such a fun & modern way to add some color into this project. I wanted to use bright & bold colors while still allowing some of the natural wood tones to peek thru after the painters tape is removed.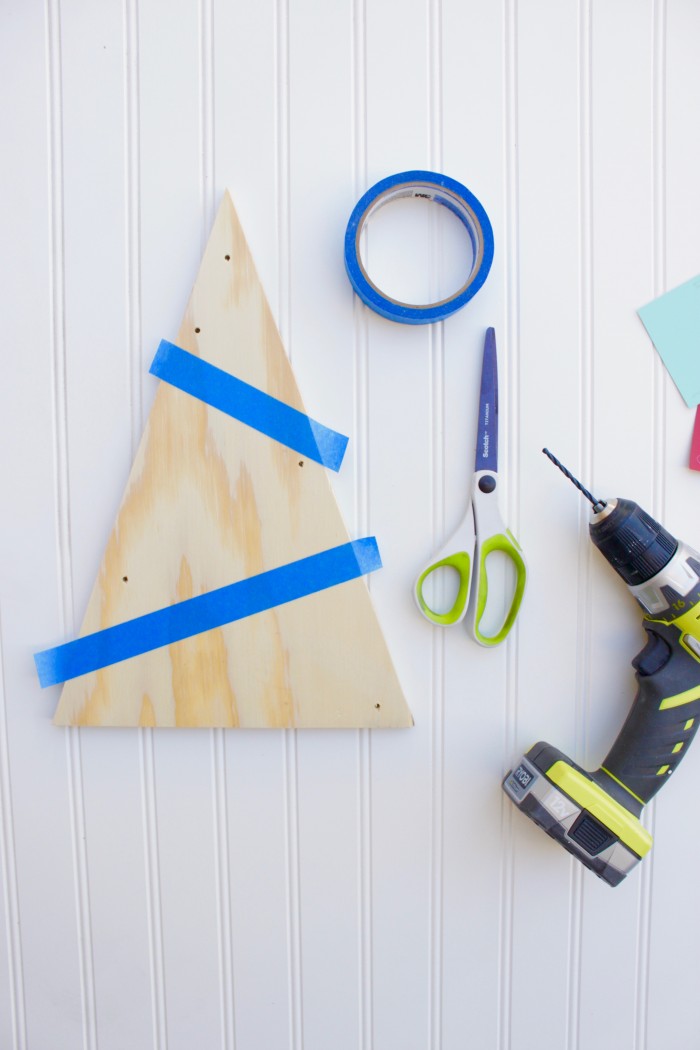 I kept the color pallet simple, sticking with three colors…a traditional holiday red, cherry red, the perfect pink in Sweet Chrysanthemum, and a fresh aqua, Island Oasis.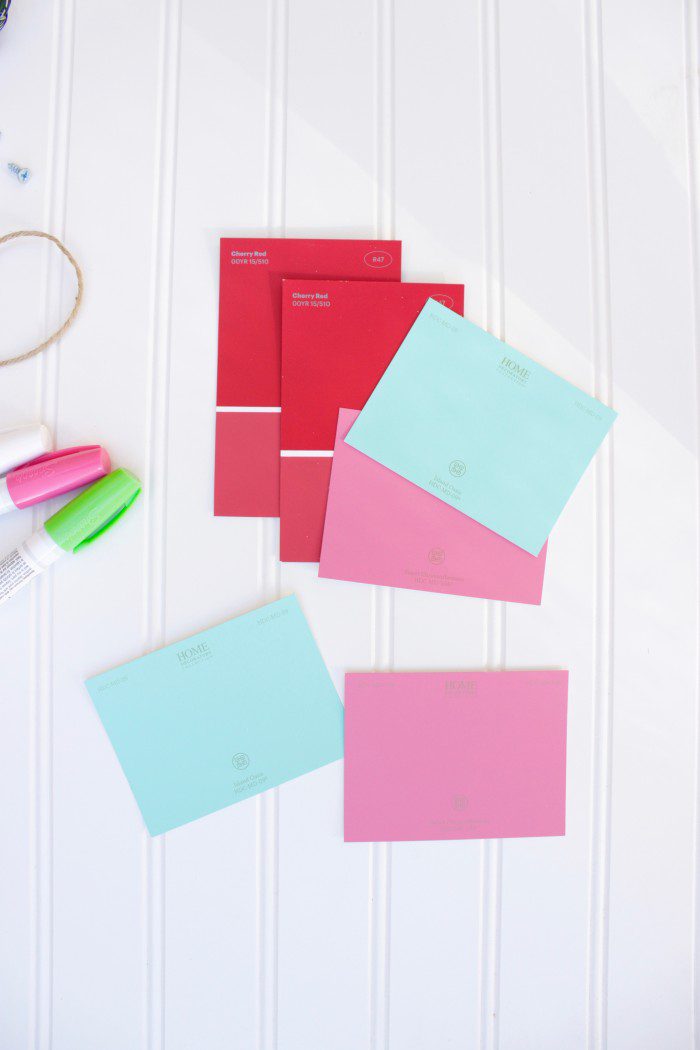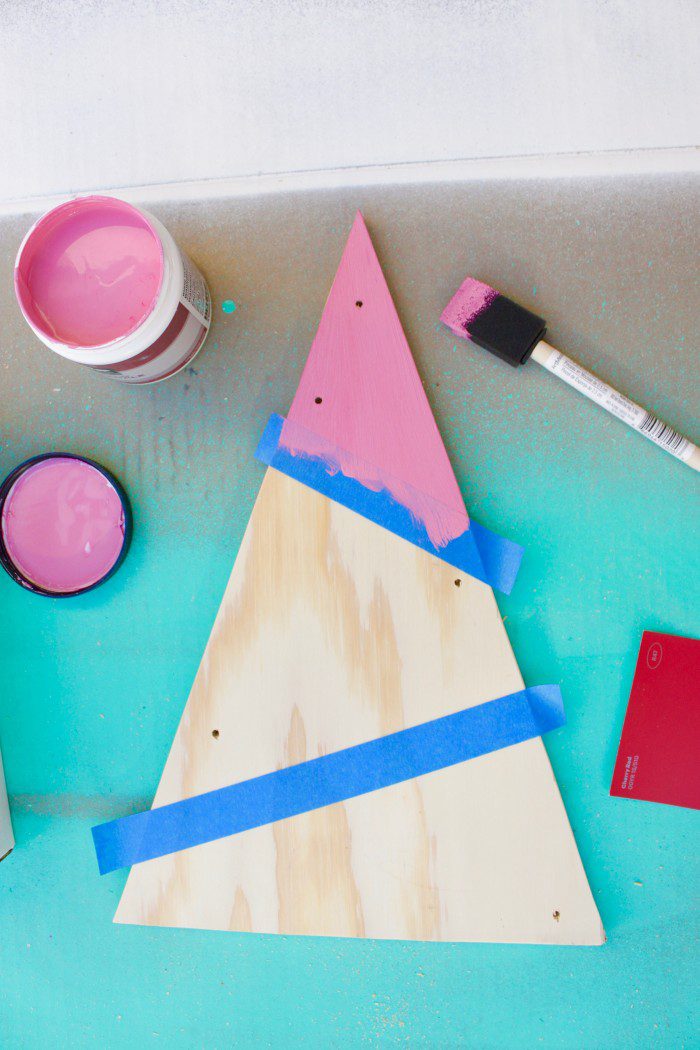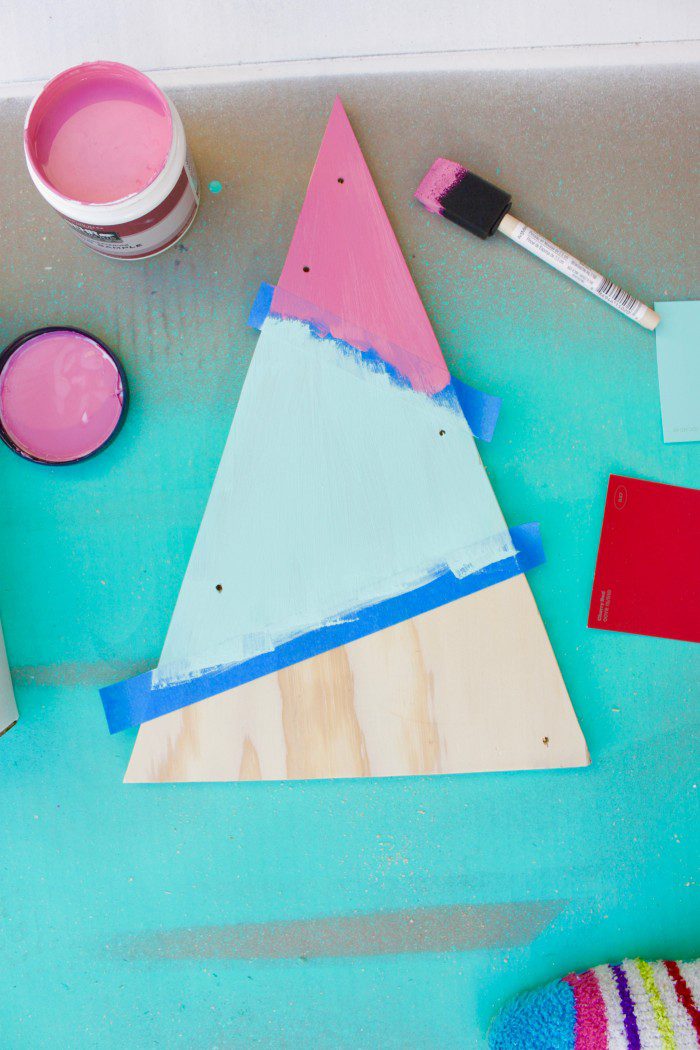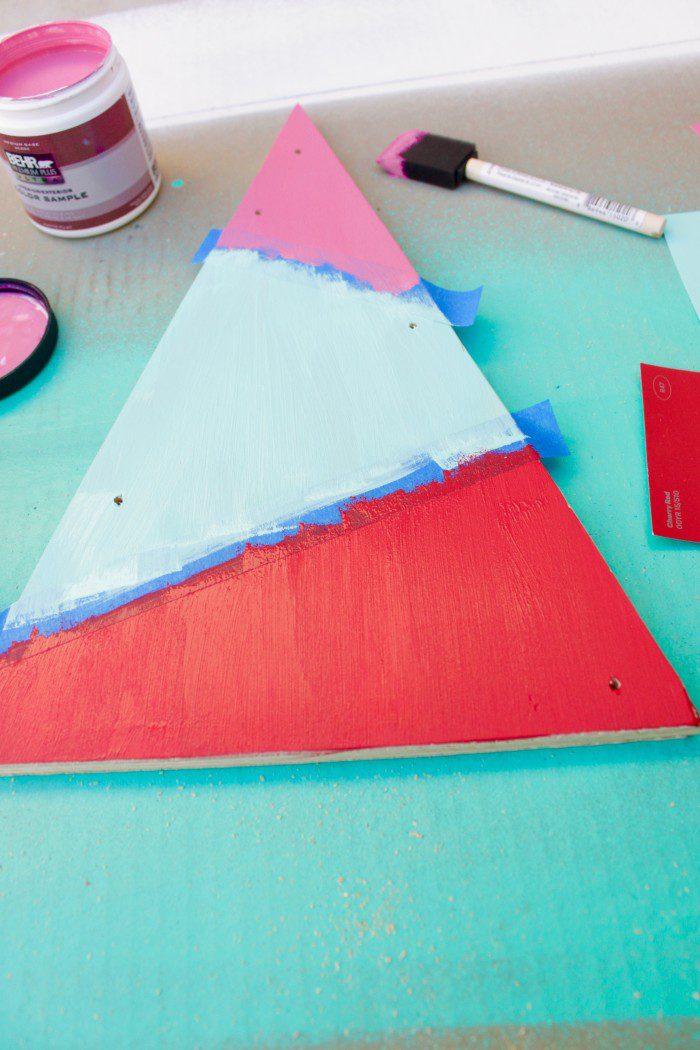 It only took two coats to cover the wood and about 30 minutes to dry.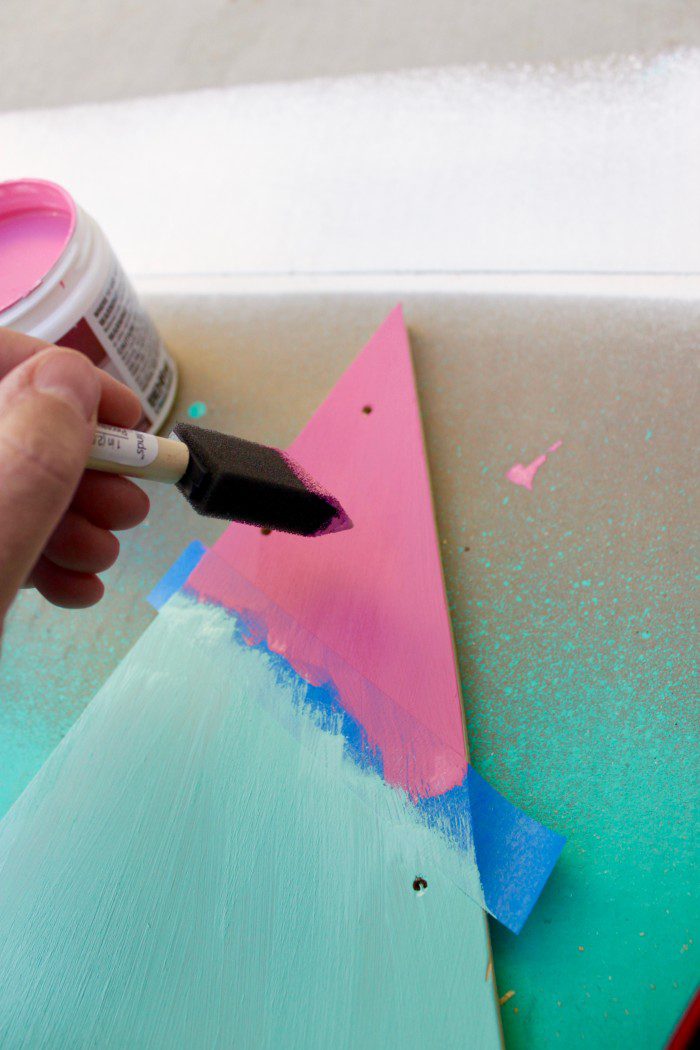 Here is what it will looks like when you remove the tape. Ahhhh…so pretty, right??!!!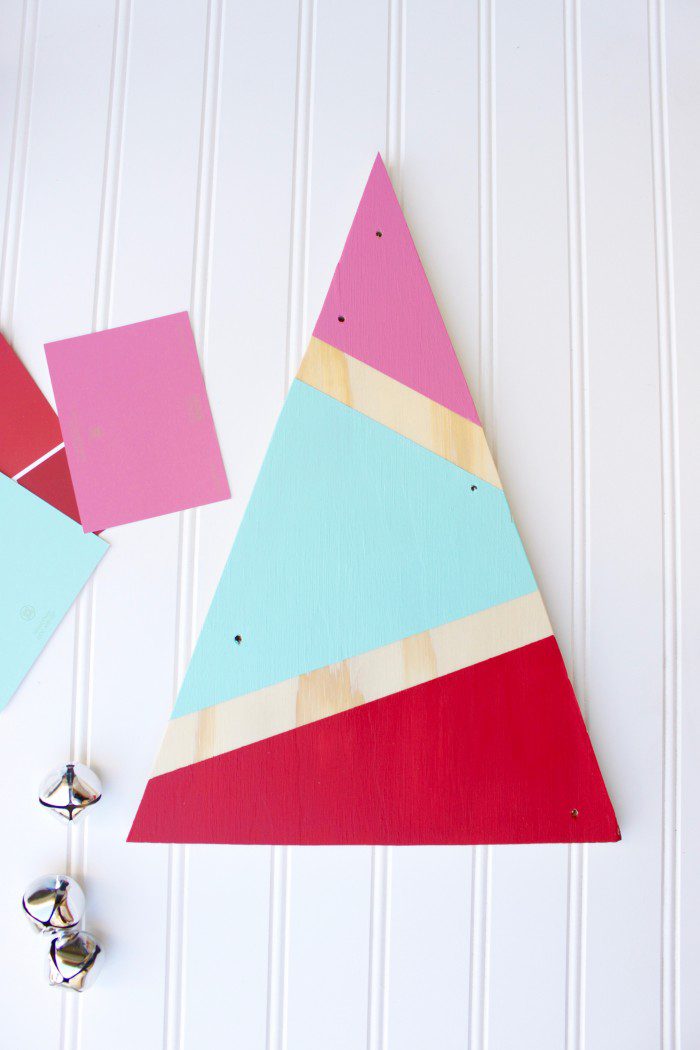 Now, its time to screw in the screws to attach the jute twine. The jute twine is used to hold the gift cards in place.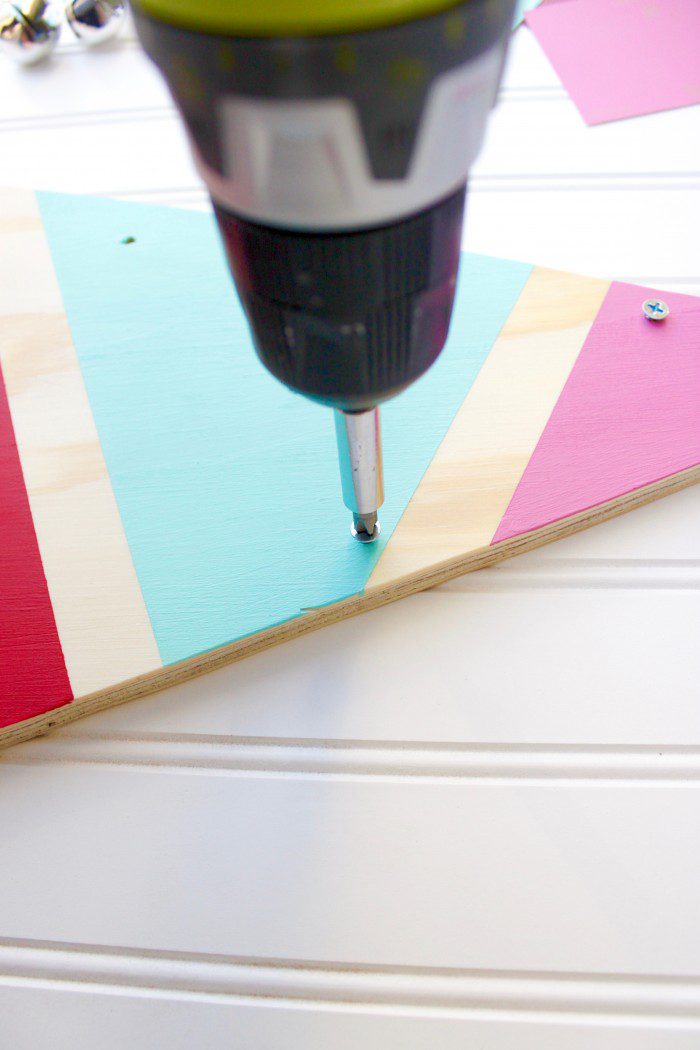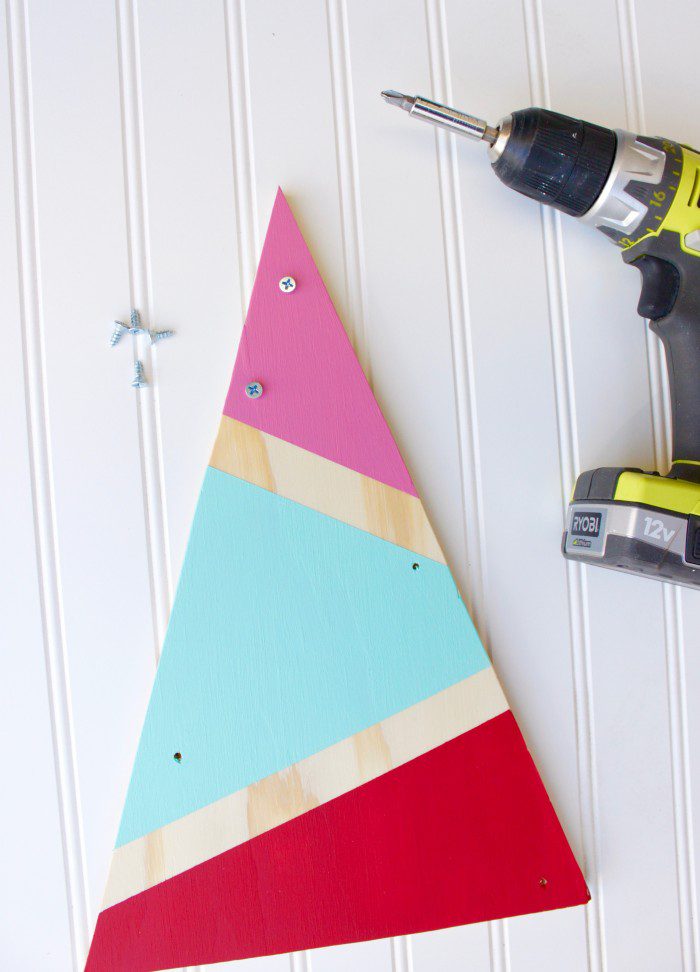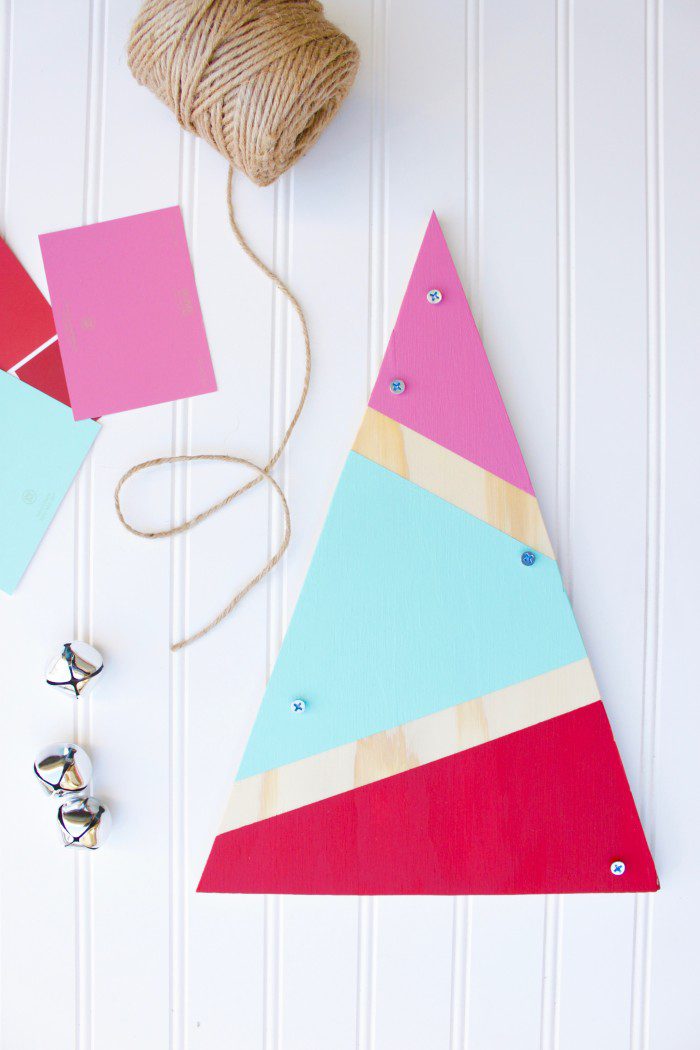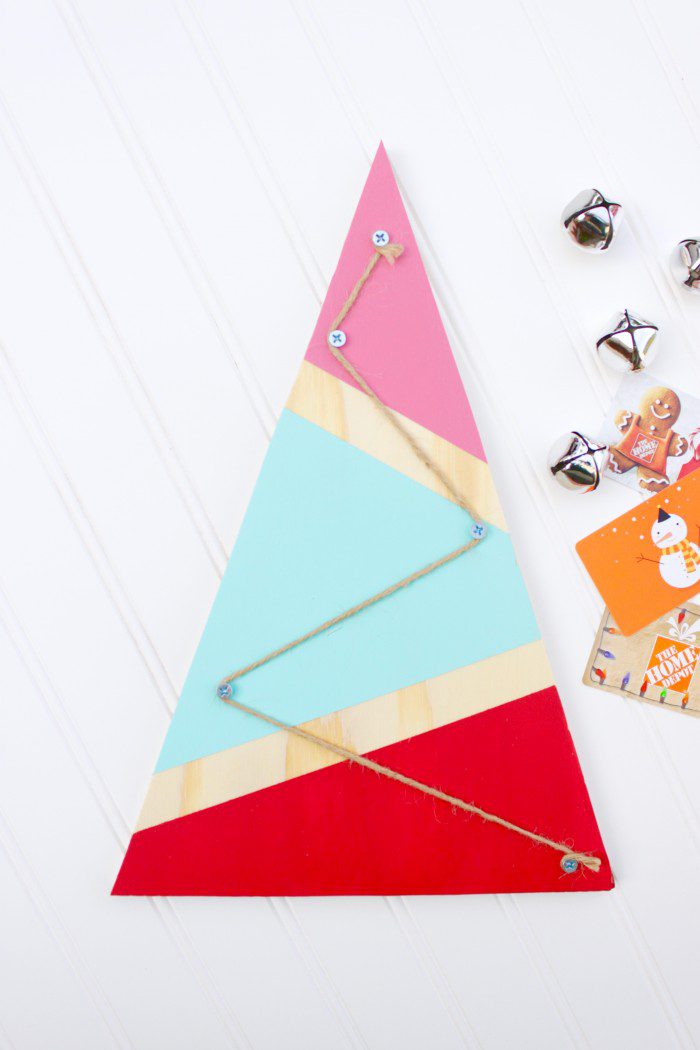 Next, using a hot glue gun, I attached jingle bells to the screw heads and inserted the gift cards.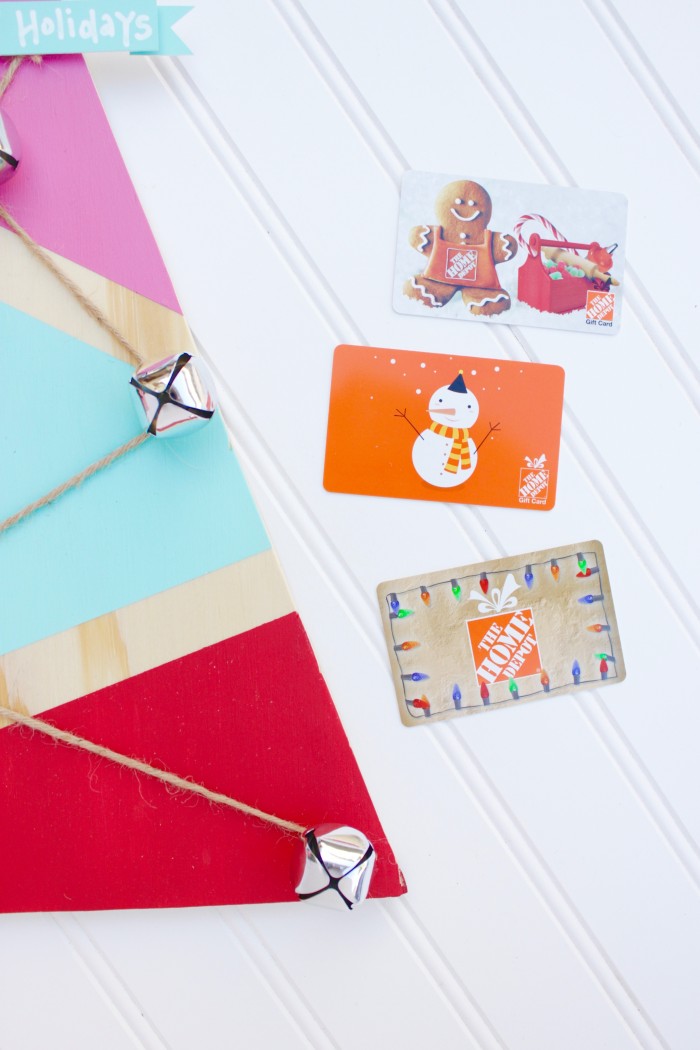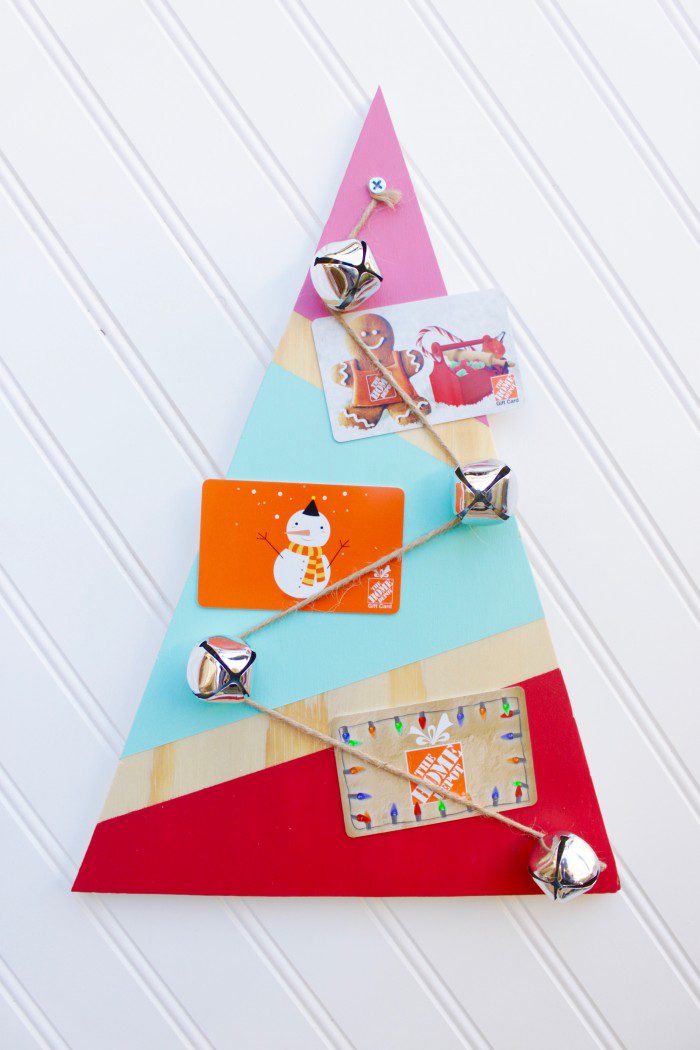 To dress the top of the tree, I cut up a paint sample to make a "Happy Holidays" tree topper and for a gift tag, I cut a piece of drop cloth into the shape of a tag, attached twine and used a sharpie paint maker to address it.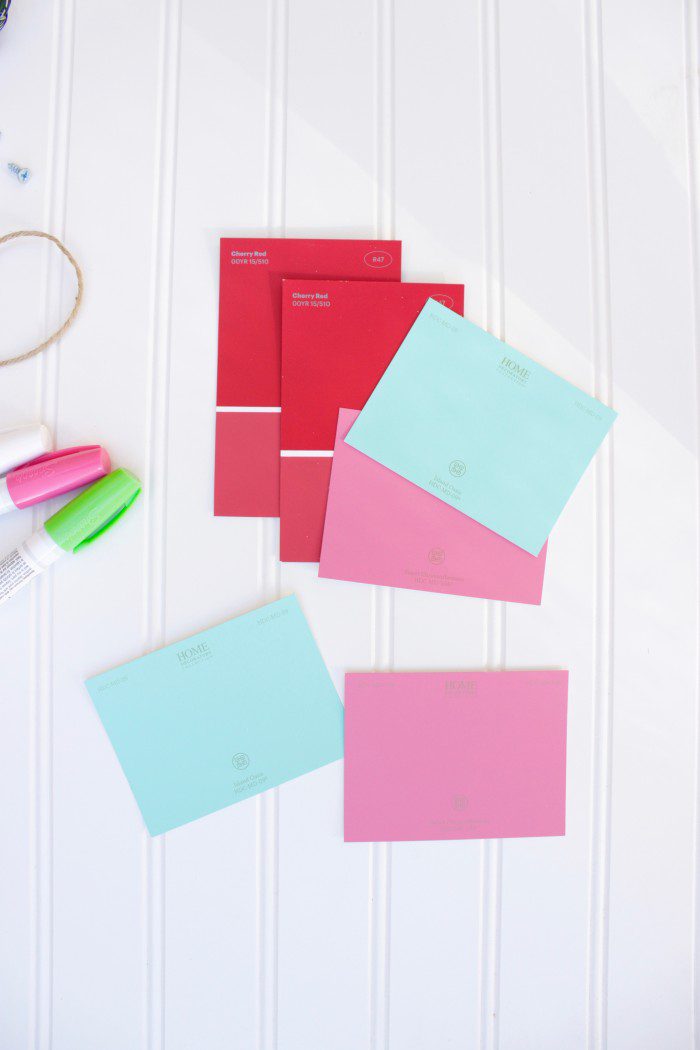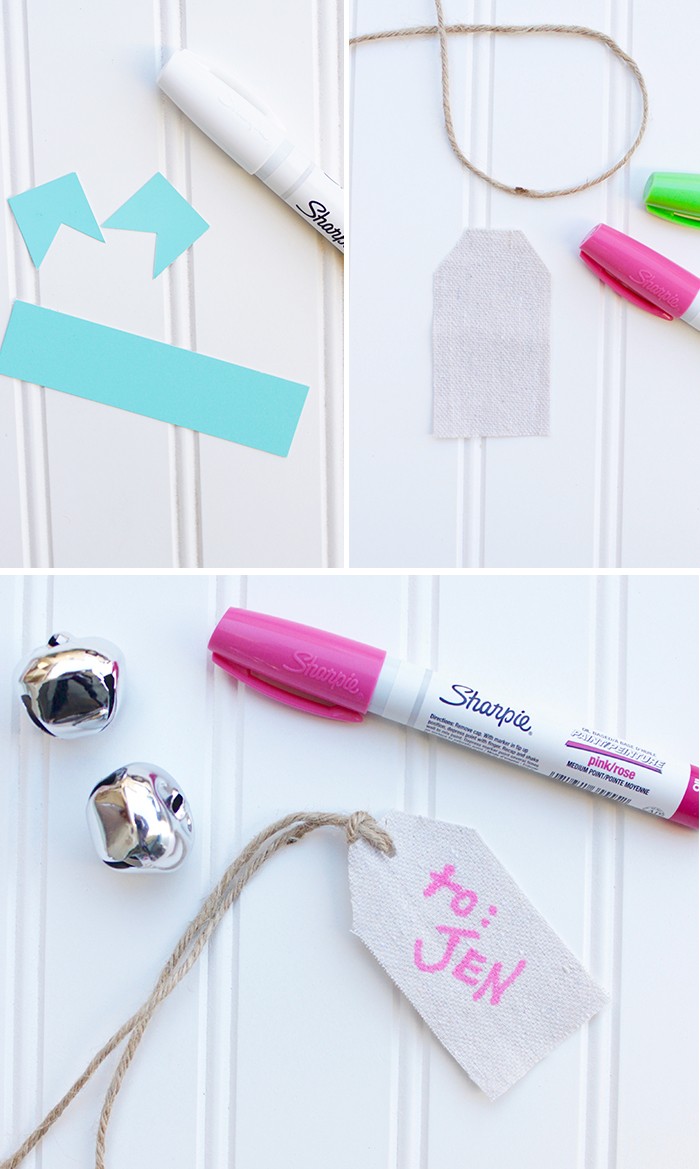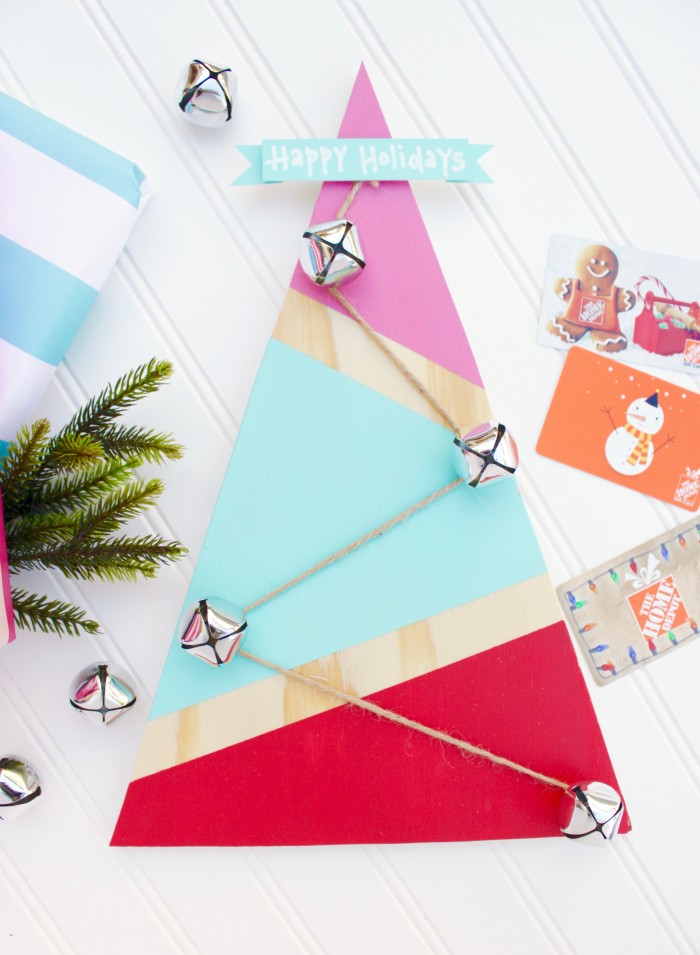 Isn't this such a fun way to gift a gift card??? Plus…the bonus is once you use the gift cards, this modern, color blocked tree can double as the perfect addition to your holiday decor!!! Happy Holidays, Happy Crafting!!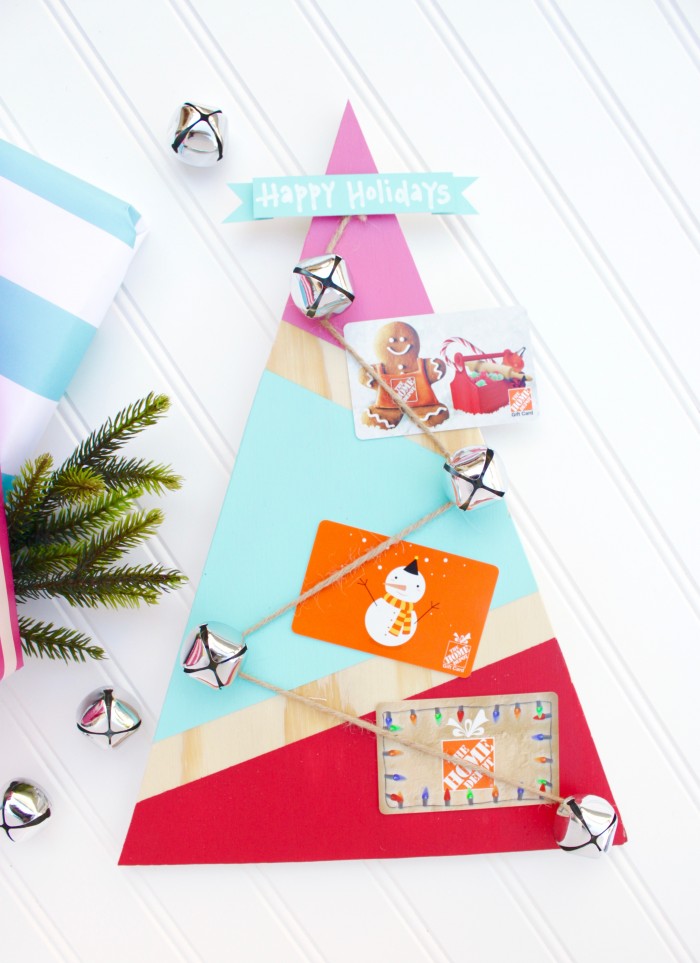 Want to see more fun & creative ways to give gift cards?
See all of our friend via these links!!!
The House of Wood: http://jenwoodhouse.com/diy-gift-card-holder
Ciburbanity: http://ciburbanity.com/holiday-gift-card-holder
DIY Huntress: http://diyhuntress.com/2016/12/diy-christmas-tree-gift-card-holder.html
That's My Letter: http://thatsmyletter.blogspot.com/2016/12/diy-gift-card-holder-virtual-party.html
Just Destiny Mag: http://justdestinymag.com/creative-gift-card-ideas
Sawdust 2 Stitches: http://sawdust2stitches.com/give-gift-card-like-boss
My Sweet Savannah: http://www.mysweetsavannahblog.com/2016/12/diy-gingerbread-gift-card-holderwith.html
Look Linger Love: http://www.looklingerlove.com/blog/family/holiday-crafting-home-depot/
Finding Silver Pennies: http://www.findingsilverpennies.com/2016/12/creative-gift-card-holders.html
Love & Renovations: http://loveandrenovations.com/2016/12/15/diy-stocking-gift-card-holder/
Petite Party Studio: http://www.petitepartystudio.com/2016/12/modern-color-block-gift-card-holder/
Classy Clutter: http://www.classyclutter.net/2016/12/unique-gift-card-gift-idea/
Mr. BuildIt: http://mr-buildit.com/2016/12/15/home-depot-gift-card-presenter
Proper Blog: http://theproperblog.com/diy/diy-gift-card-holders-to-hang-from-the-tree/
All Things Thrifty: http://www.allthingsthrifty.com/2016/12/neighborhood-christmas-gift-card-ideas.html
Disclosure | Thank you to Home Depot for sponsoring this post. All opinions and ideas are my own.