I have an announcement, there is a new man in my life and his name is Chester.  Chester has an old soul, a classic swagger  and is dapperly dressed.  My husband doesn't seem to be too jealous…after all Chester is my new sofa.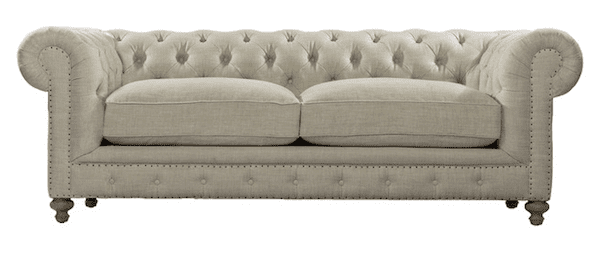 Eeeek!!!  So what's a girl to do with such a fabulous man in her life?  Oh…just design a room around it!  Here is what I am planning for my new family room.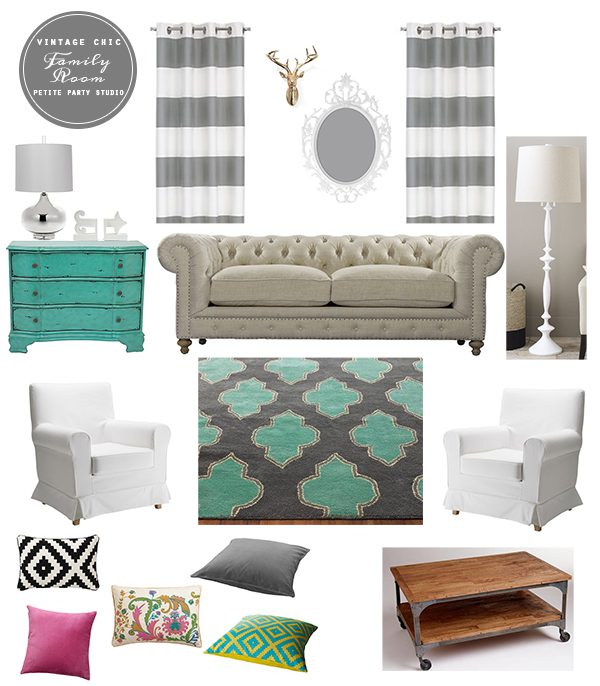 I can't wait to pull this room together!  The classic look of the chesterfield sofa was the jumping off point for the room inspiration and acted as a great neutral anchor.  I am a chick who LOVES color and patterns so next came the rug.  I wanted a pattern that was large in scale; plus I am totally smitten with the teal & gray color combo.  I then wanted something linear, so I am going with bold horizontal striped window panels to flank either side of the sofa.  To bring in some brighter colors and smaller scale patterns I am using throw pillows to mix it up for a more eclectic style.  I want to combine a little bit of classic vintage styling, a smidge of the oh-so-popular industrial pieces and pop of chic.  Love it or Leave it…what do you think?