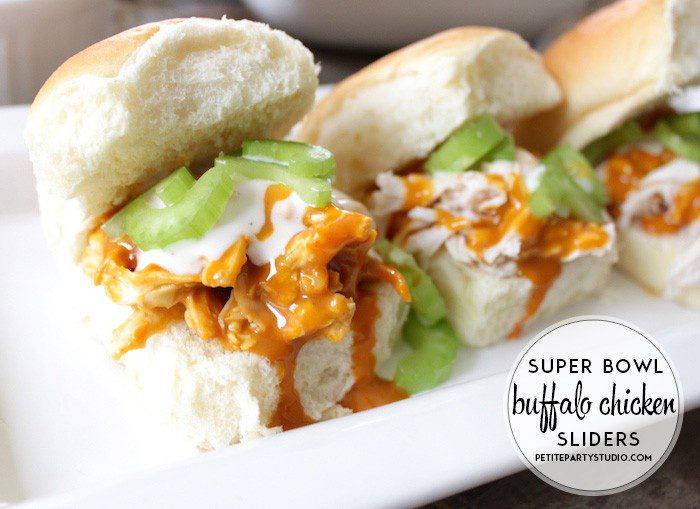 Here we are mid-week and Super Bowl XLIX is a few days away!  To get your game going, we whipped up this oh-so-yummy football fave for you to impress your guests and learn some new cooking skillzzzzz.  Buffalo Chicken Sliders!!!!!  YAY!!  I LOVE buffalo wings…actually, put buffalo wing sauce on anything and I am a happy girl!  First, I am going to share a little secret with you that many of you may already know but for those of you that don't…this is life changing.  Yep, big ole kitchen shortcut that seems so, "why in the world did I not do this before type of shortcut??!!  Here goes, for any of my recipe escapade that calls for shredded chicken, I cheat and use ROTISSERIE chicken.  Always tender, juicy, cooked, ready to go, full of flavor, get it?.  I use it for chicken salad, chicken enchiladas, chicken tacos, bbq chicken sandwiches and the list goes on and on.  Anyways…got a little sidetracked…ok, these aren't your typical buffalo chicken yumminess, this is SO MUCH MORE!
This sauce is OH MY WORD, finger lickin' good wing sauce…sweet and spicy twist on your typical buffalo wing sauce.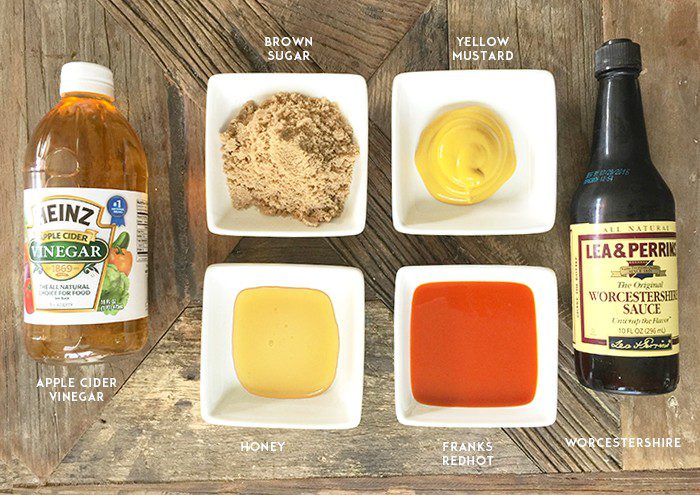 Sweet & Spicy Buffalo Sauce
6 tablespoons Franks Redhot
1/2 cup yellow mustard
4 tablespoons brown sugar
2 tablespoons plus 1 tsp of honey
1 tsp apple cider vinegar
1-2 dashes of worcestershire sauce
For the sliders:
King's Hawaiian Roll
Chopped Celery
Ranch Dressing
Combine all of the ingredients into a small saucepan and warm over low heat.  Now, I tend to be the person that continues to play with the flavors of the sauce depending on how sweet or spicy we like it!!  Now, it's time for construction.  In a separate pan mix some shredded chicken with some sauce, just enough to coat.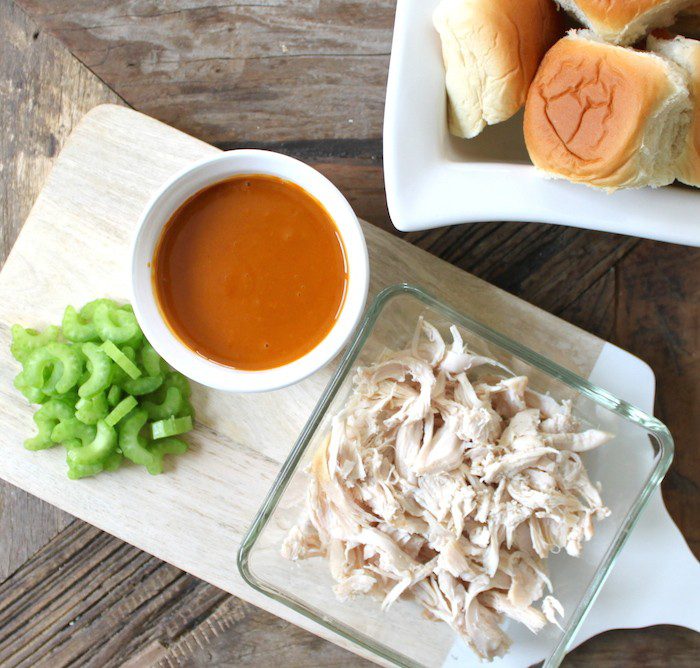 Once the chicken is heated with the sauce, pile the chicken onto the rolls and top with some extra sauce if desired.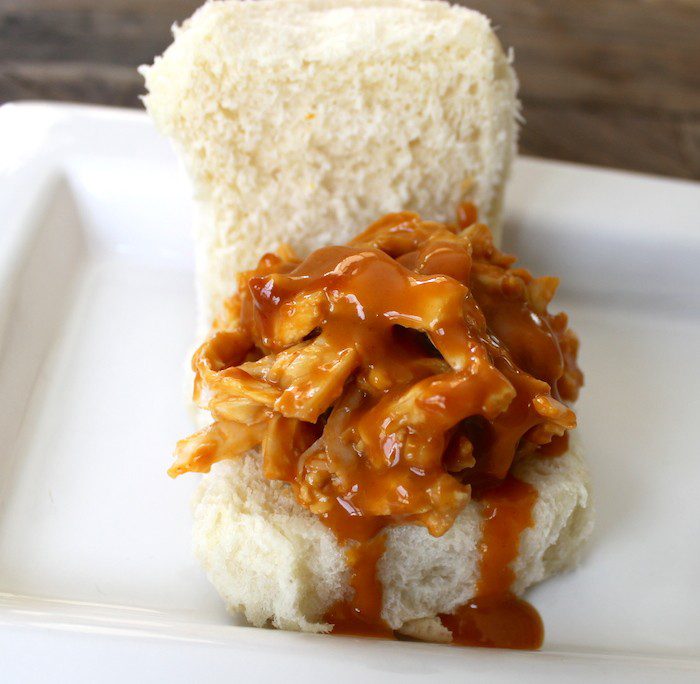 Then, add a dollop of ranch and some diced celery for some cool, crunchy texture.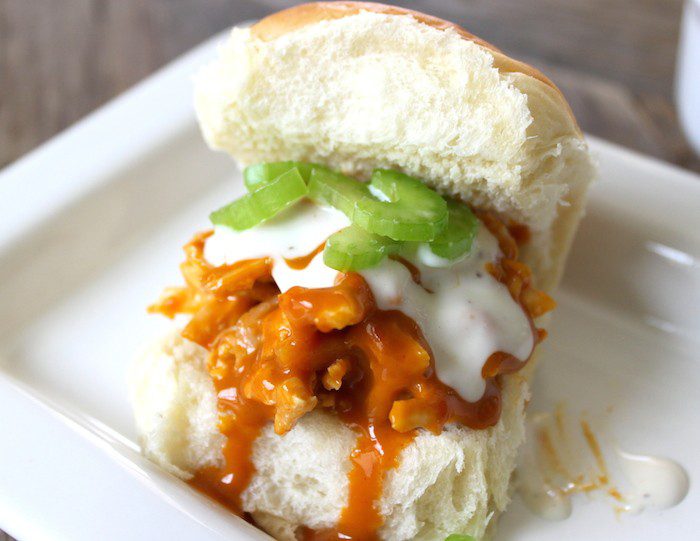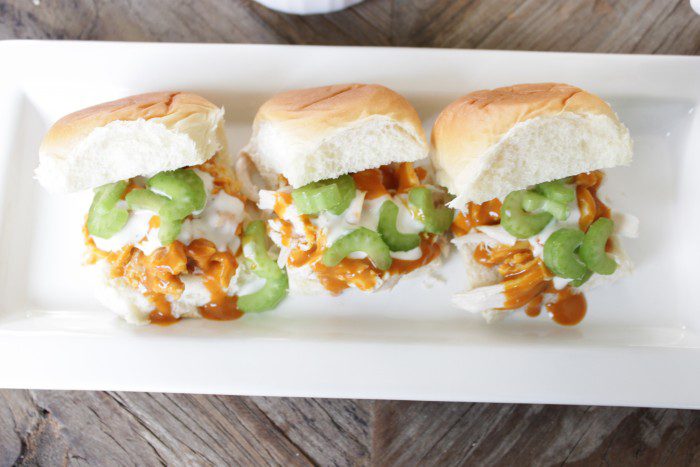 Ready, set, eat!  These tasty gems will be gone before you can say hut, hut, hike!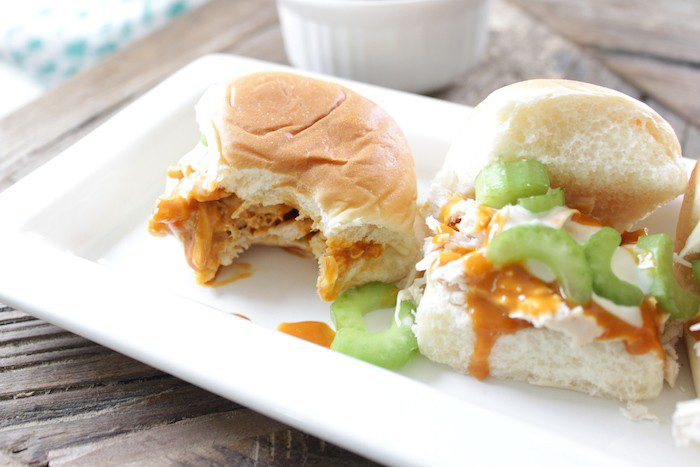 So, gear up this Sunday for the Super Bowl and become the MVP of the party by serving up these DELICIOUS Buffalo Chicken Sliders.  Goooooo TEAM!