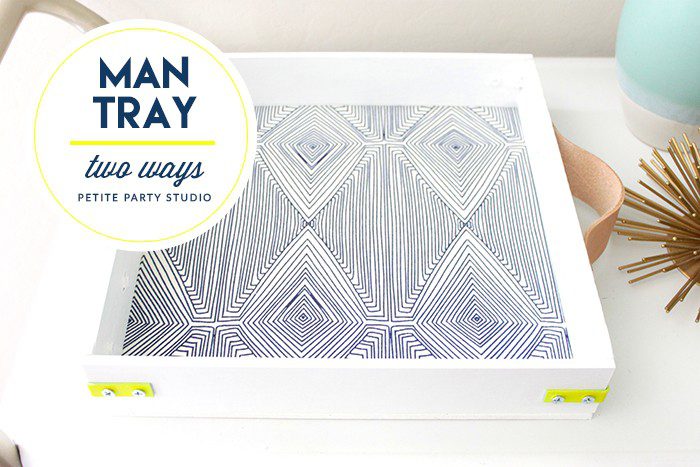 Looking to corral all of the hubby's odds and ends that end up on the bathroom counter, nightstand or dresser?  Better yet, why not use it as a serving tray too??!!  Well, we have the perfect solution and it is just in time for Father's Day or any other occasion.  Here is a fun DIY for a valet tray or as we call it around here a MAN TRAY!!
Here is a quick overview how you can make one too!!
You will need the following supplies:
1/4″ craft plywood base (we found ours at Joanns and used a 12″x12″ precut piece)
2″H x 1/4″ thick craft plywood pieces cut to fit the ends of the base
Wood Glue
Screws
Corner brackets
Spray Paint
Misc. Supplies – scissors, drill, saw, sanding block, screwdriver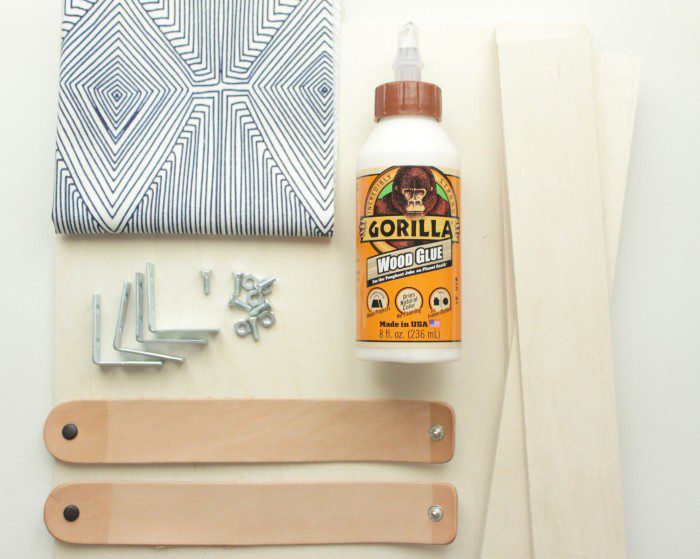 I started with the wood base and traced the shape onto the backside of this AWESOME Nate Berkus Fabric I score on sale at Joanns and cut it our a little smaller that the outline.  Once it was cut out, I used spray adhesive to secure the fabric to the wood base.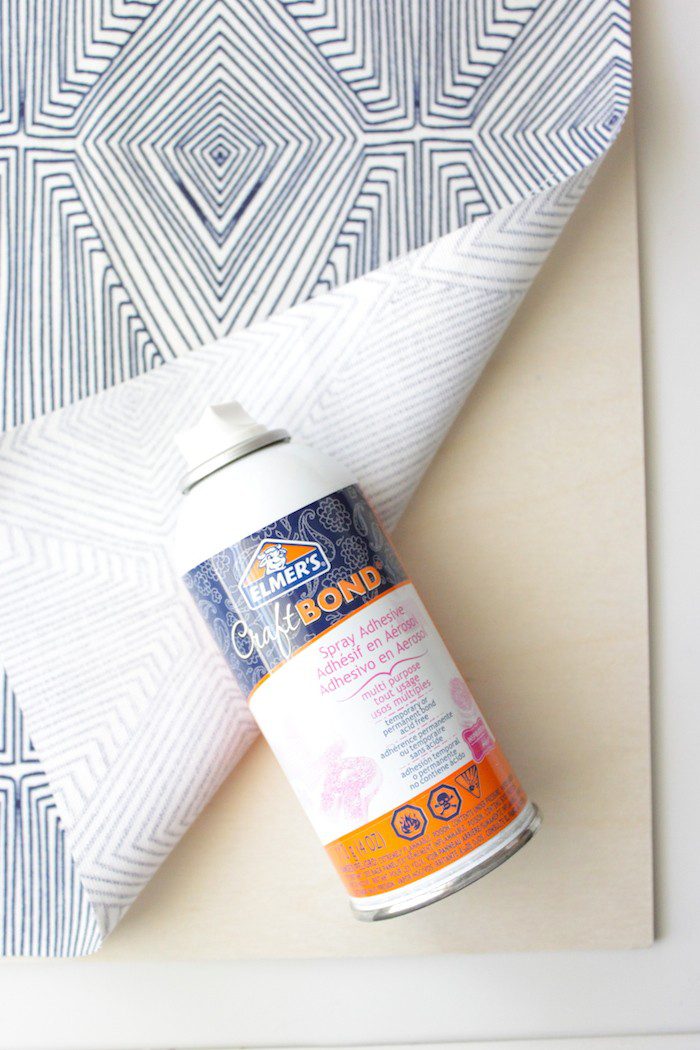 Next, I cut down the sides to fit and then I painted them with Rustoleum spray paint.  Once they were dry, I also spray painted the corner brackets and used them to measure holes that needed to be pre-drilled.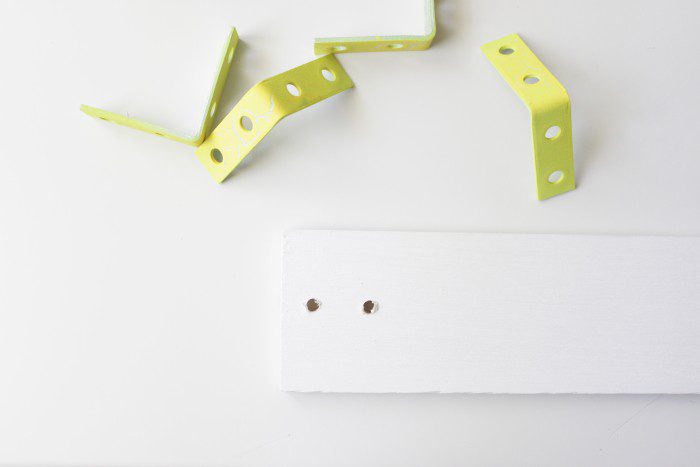 Once I had all of the sides pre-drilled, I started to assemble the tray's frame using wood glue and the corner brackets to secure them.  Since the wood pieces are only 1/4″ thick, I opted for a 1/2″ machine style screw with a nut so there were not any pokey ends.  Once the four sides of the frame were secured, I attached the base of the tray using my Ryobi Airstrike Nailer with 5/8″ nails.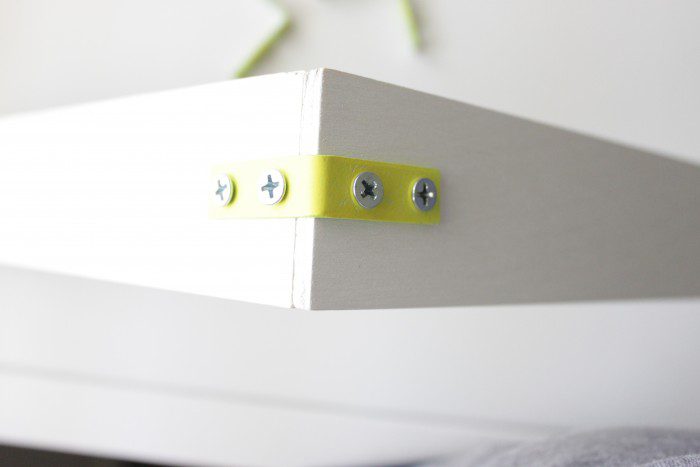 Next, came this super cool idea…I found leather cuffs at Joanns and cut them down to use as the handles for the tray.  It adds the perfect amount of awesome!  I eyeballed the placement and secured using the same screws and nuts as I did for the corner brackets.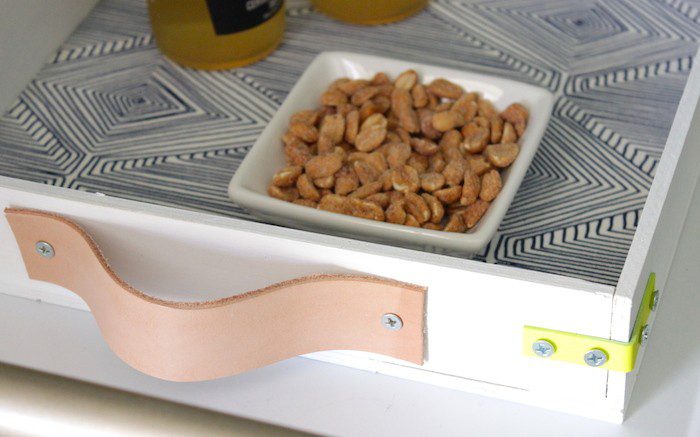 We are pretty stoked about how this turned out!!!  Pretty awesome, huh?!!!!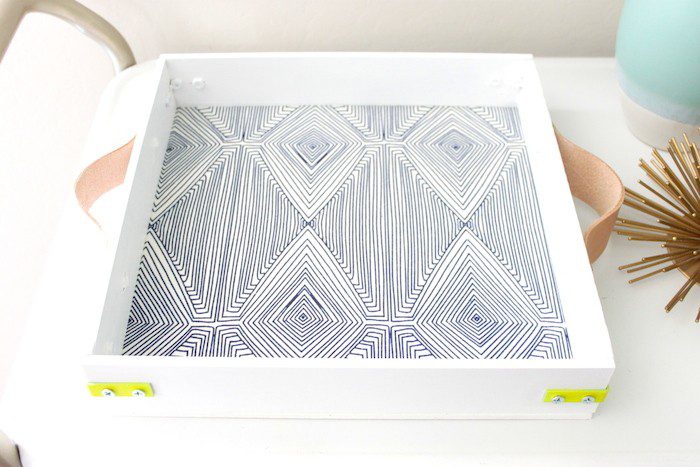 Now, here are two ways that your main squeeze can utilize his new & fabulous MAN TRAY!!!
OPTION #1  This makes the perfect snack tray!!  Oh yes!  Your dude will be super happy if you stock his lil' ole tray with his favorite frosty beverages and yummy snacks.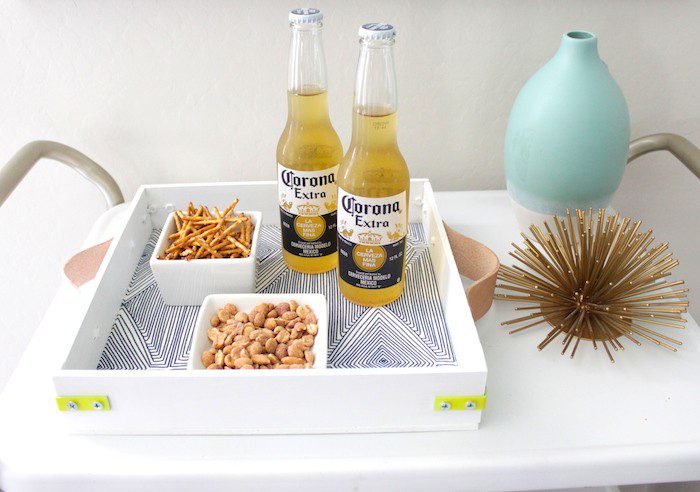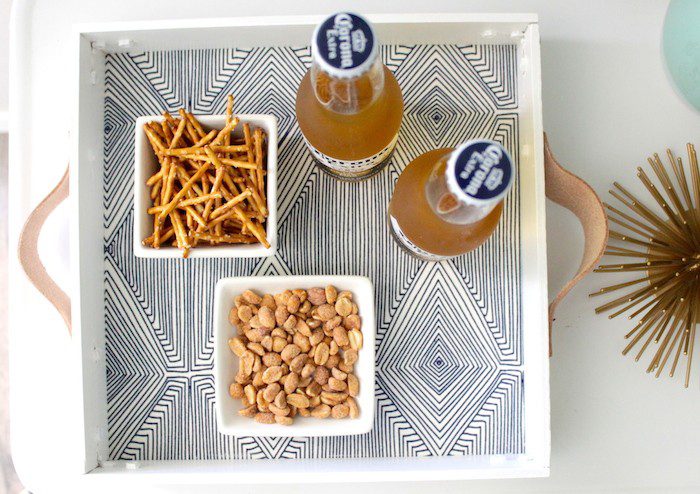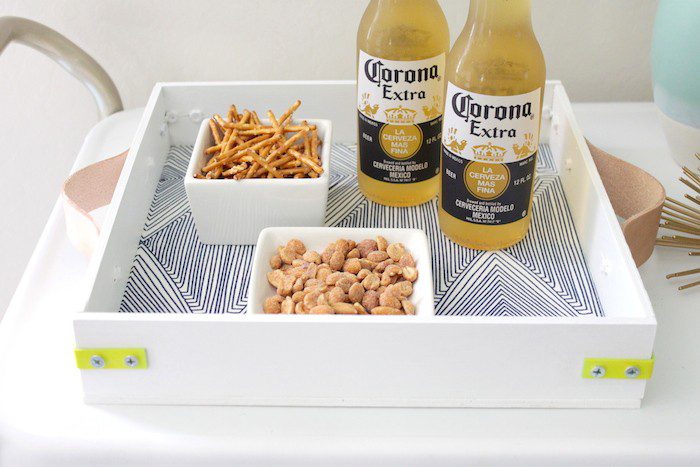 OPTION #2 Snack time over?  Now it's time to use this kick-butt tray to help keep your husband's trinkets organized.