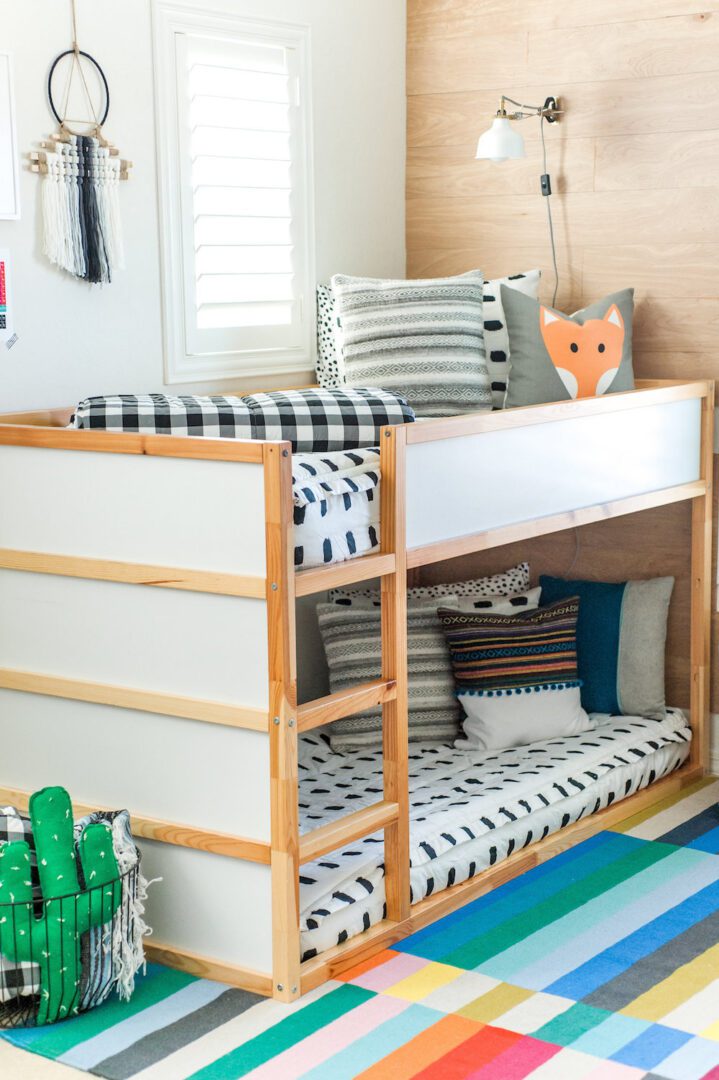 Here is my Modern Colorful Boy's Room Reveal with Beddy's!!! I am soooooo excited to share this room reveal with you!!! When I came across Beddy's Bedding, it was like an answer to my design prayers! You see…here's the deal, I have 3 boys and there always seems to be a cover debacle in the middle of the night. Someone usually kicks their covers off and can't figure out how to cover themselves back up, so there is some sort of loud bellowing that echoes throughout the upstairs hallway. That bellowing usually comes from our oldest!
When I started to look for bedding options…Beddy's was the answer! Beddy's is a one piece total bedding system. The entire system wraps around your mattress like a fitted sheet. It zips on both sides, has 100% cotton exterior with a super soft minky inside. The set also came with a coordinating pillowcase AND pillow sham. The pattern I picked out was the DASH set and I also added in the CHECKMATE blanket for a contrasting pattern and besides, buffalo check is everything!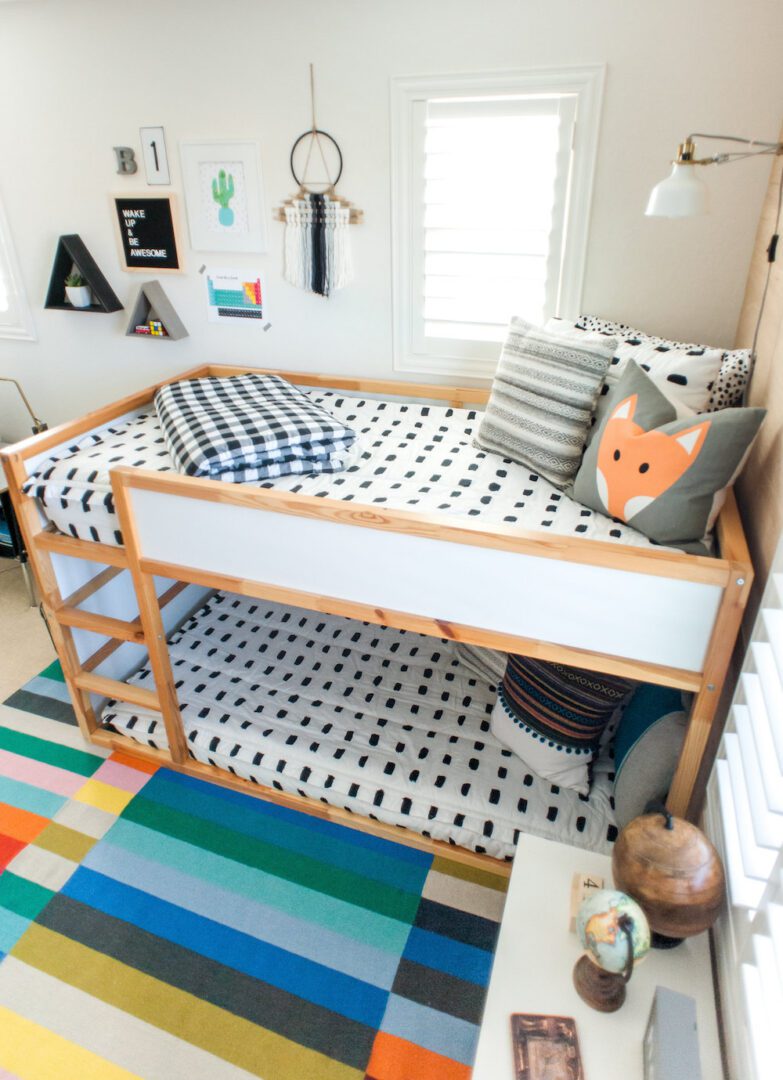 I am totally LOVING the play on patterns with the buffalo check against the dashes.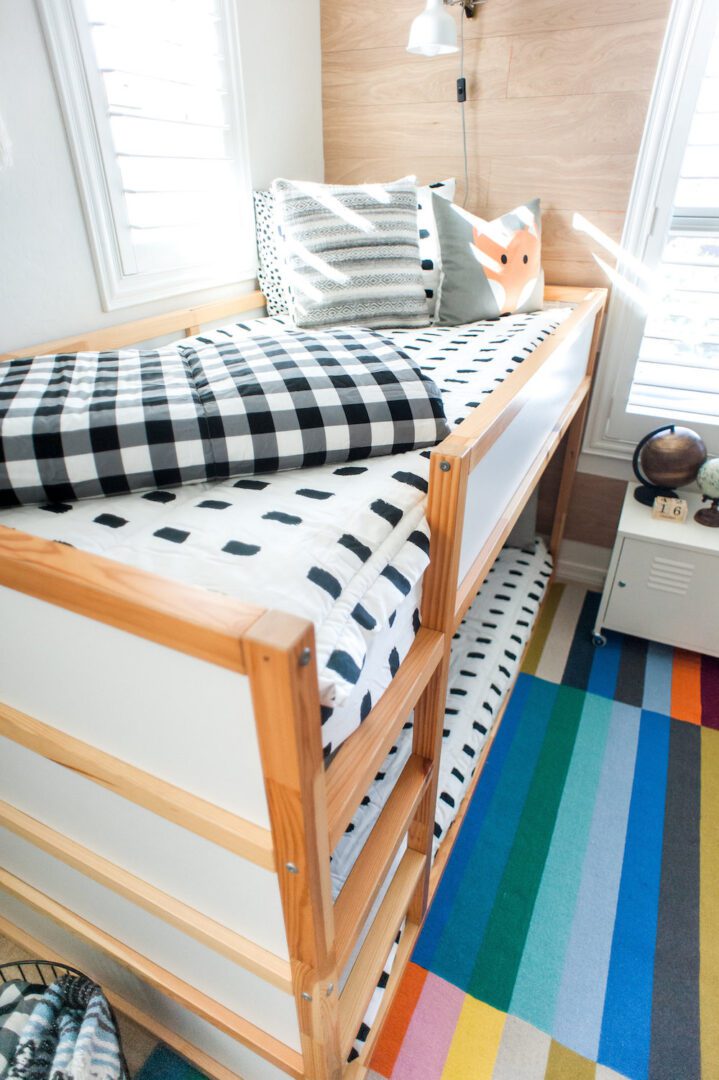 You can see in this picture how the Beddy's set easily wraps around the mattress like a fitted sheet.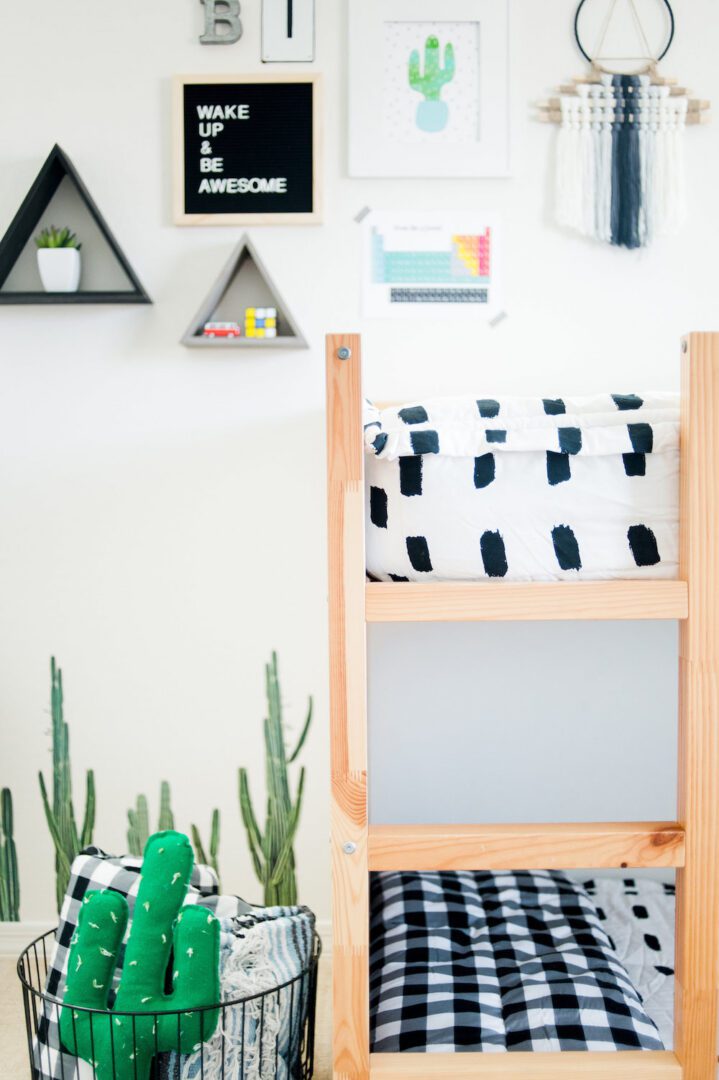 I never imagined that making a bed, especially bunk beds could & would be soooooo easy! All you have to do is ZIP.IT.UP! Yaassss! ZIPPERS!!! The blanket, essentially, zippers on…soooo easy to set up, comfy to sleep in and a breeze to make your bed??? Yeah, life changing for sure! Wanna see it in action? Watch THIS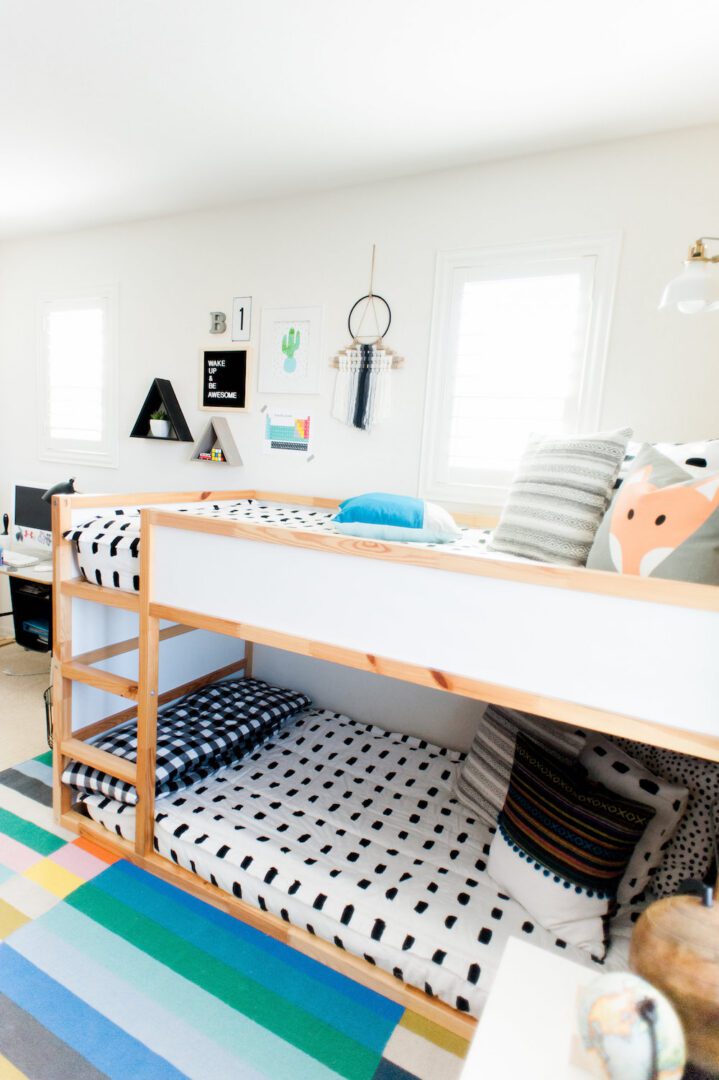 Here is where the inspiration for his room started. I loved the black & white dash bedding and though it was the perfect palette to build off of.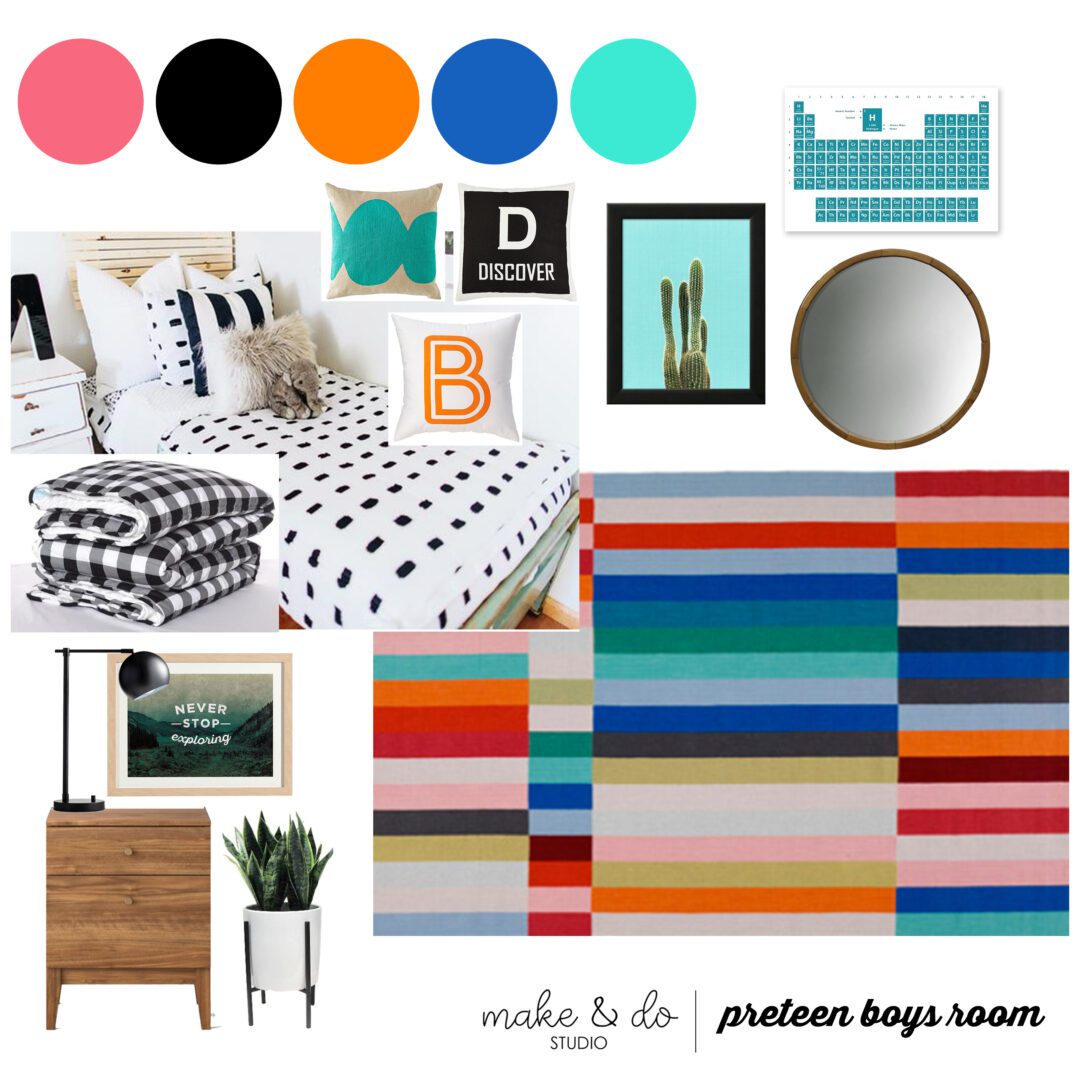 On one side of the room I created a gallery wall with various elements that represent Brandt and his interests and the other side of the room, the decor was more playful and trendy. He lOVES to collect license plates and is totally obsessed with the state of Wyoming, geography, street signs and cars.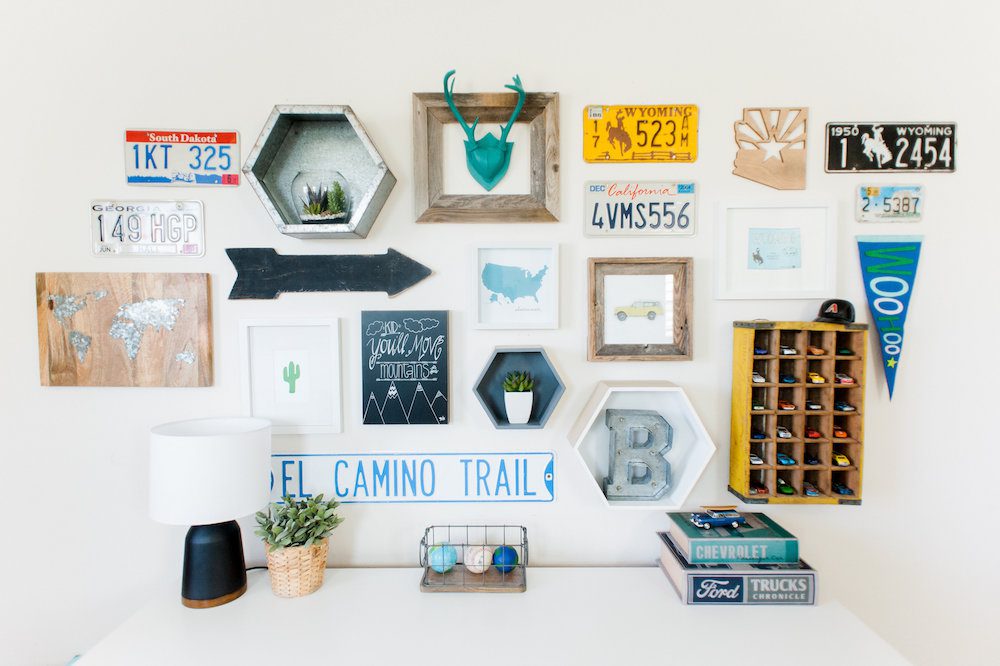 This old soda bottle crate made a perfect place to park his most prized matchbox cars.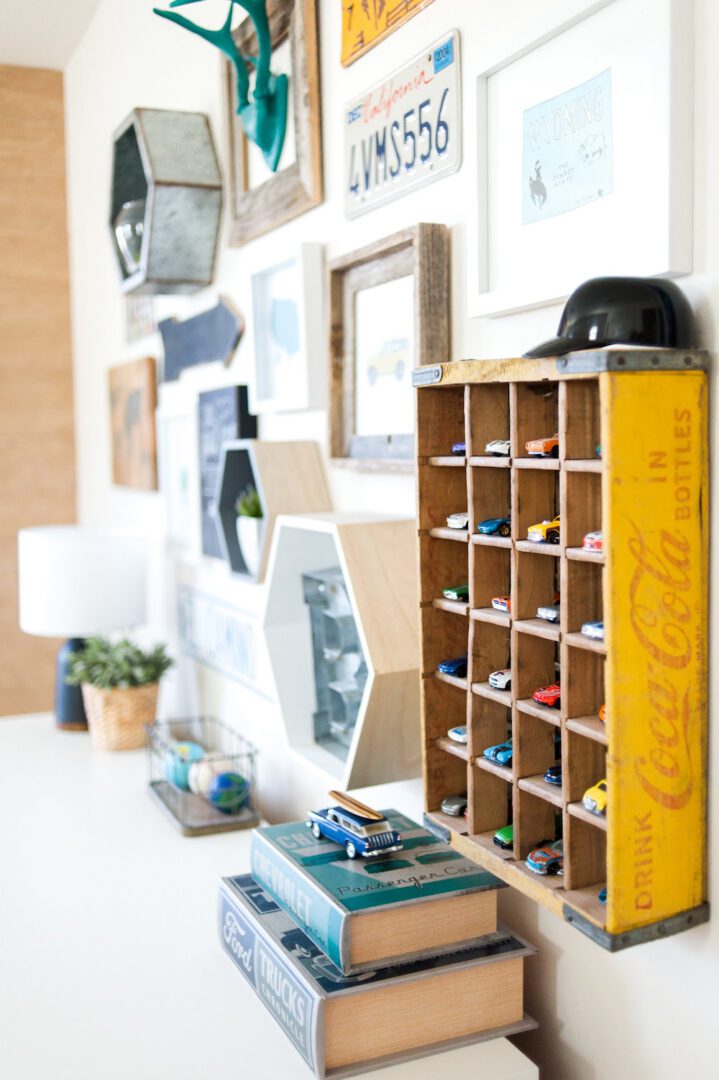 The opposite wall was a collective of a few more items that are on trend right now plus some added additional character to a very personalized room. Grab the watercolor cactus print HERE!!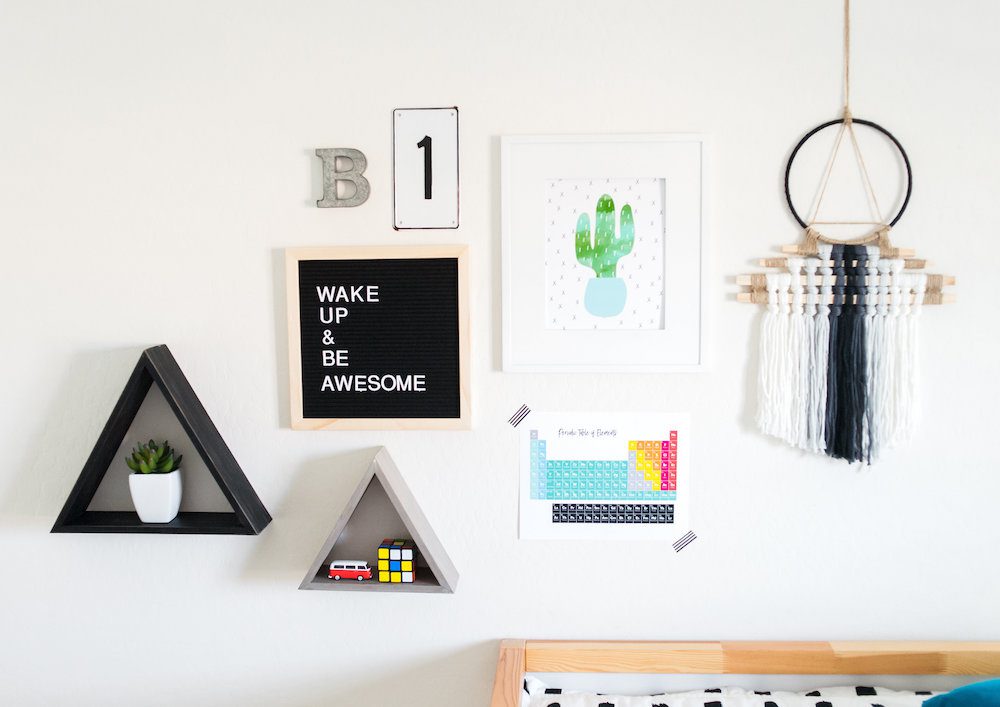 I found these darling cactus wall decals and though they added the perfect touch of whimsy.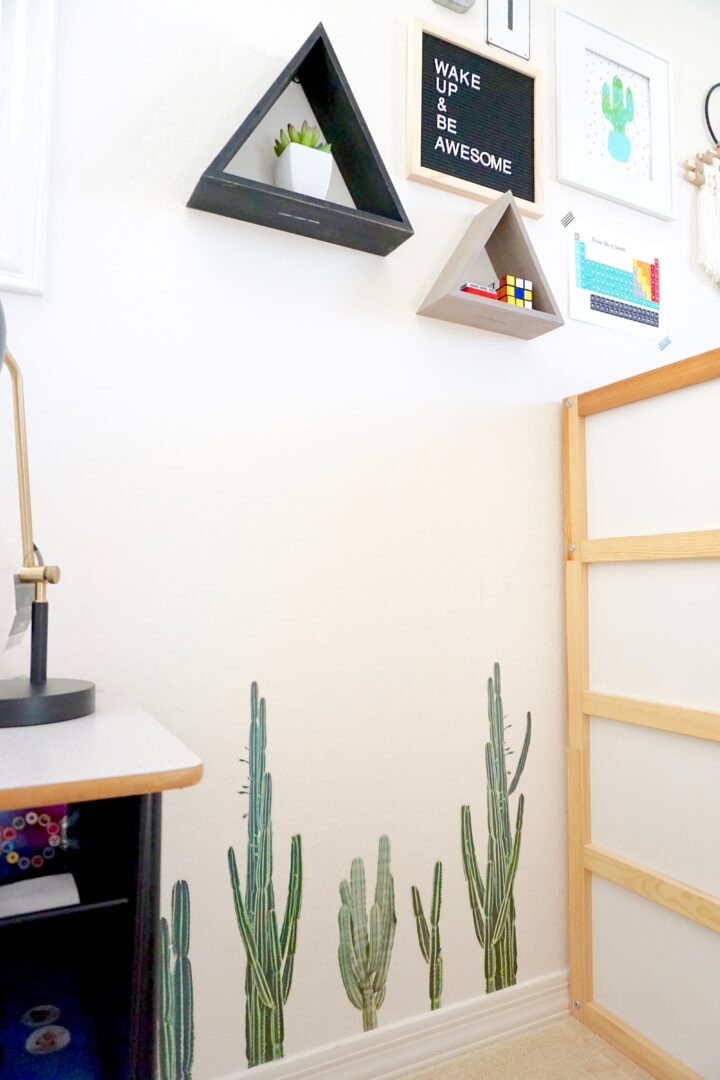 I had been searching for the perfect bedding set for him and once I spotted this set, I knew it was just what the room needed. Another key point that I want to mention is that Brandt loves to be tucked in like a burrito…he tends to obsess about his covers being straight and lined up and with Beddy's I don't have to worry about this, he's always tucked in!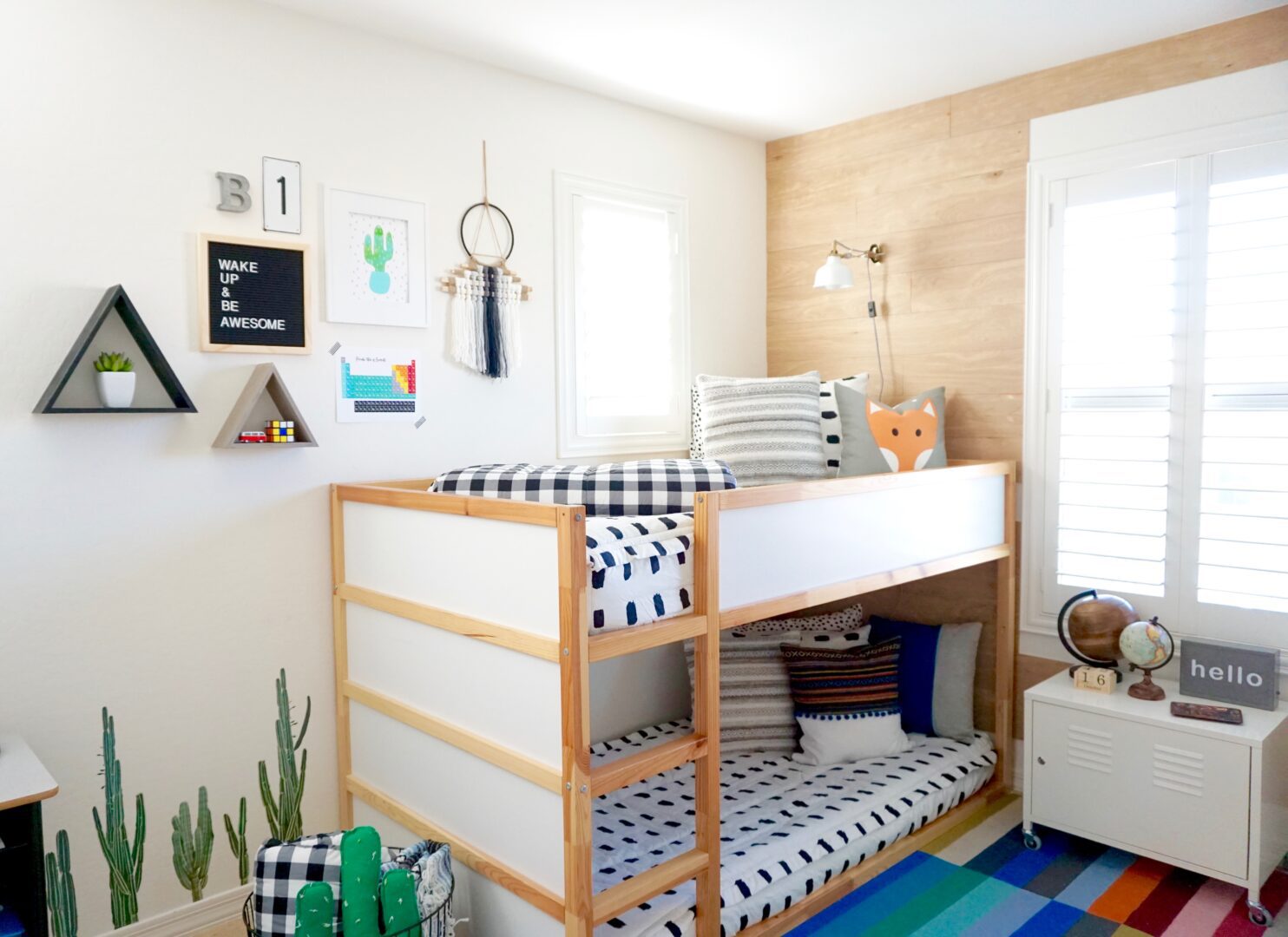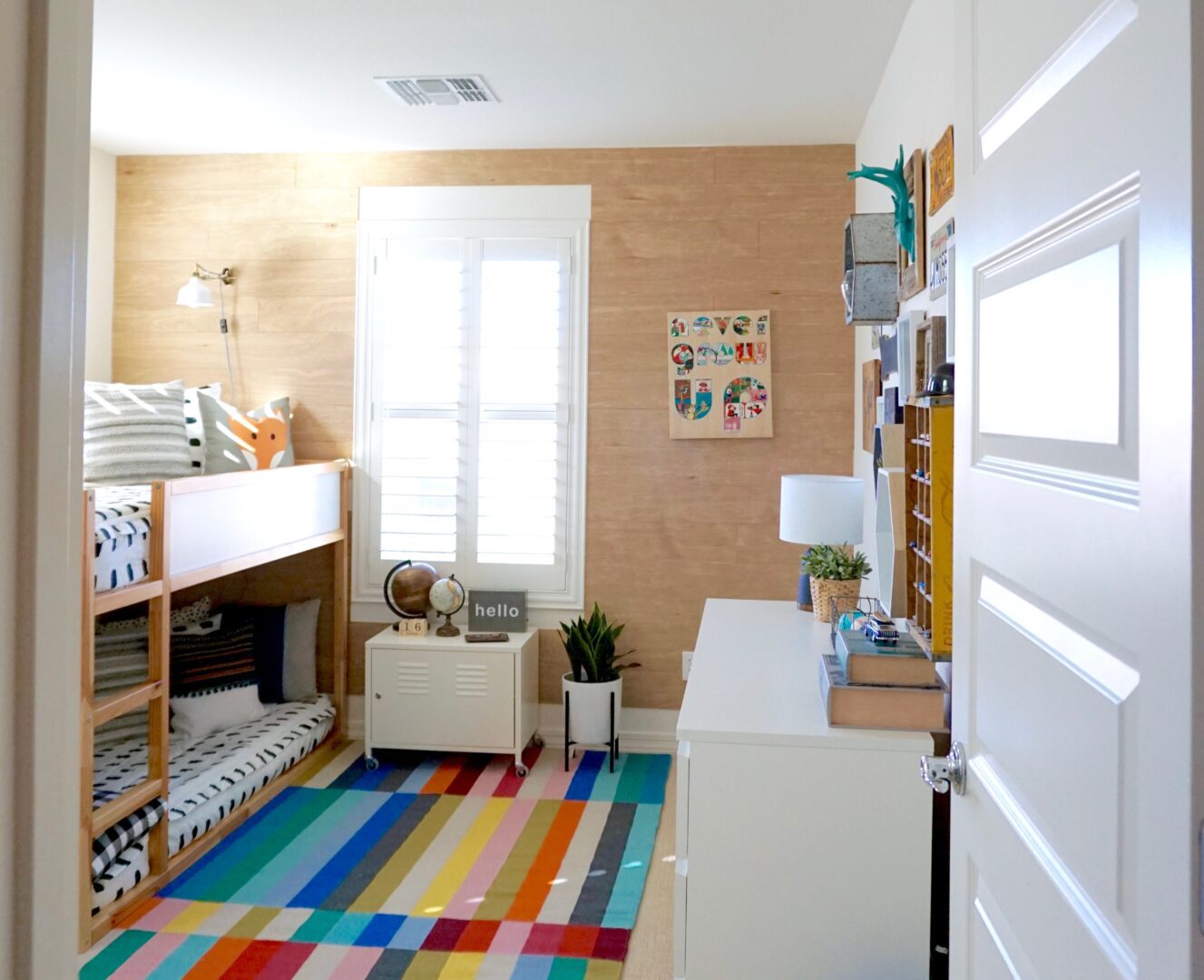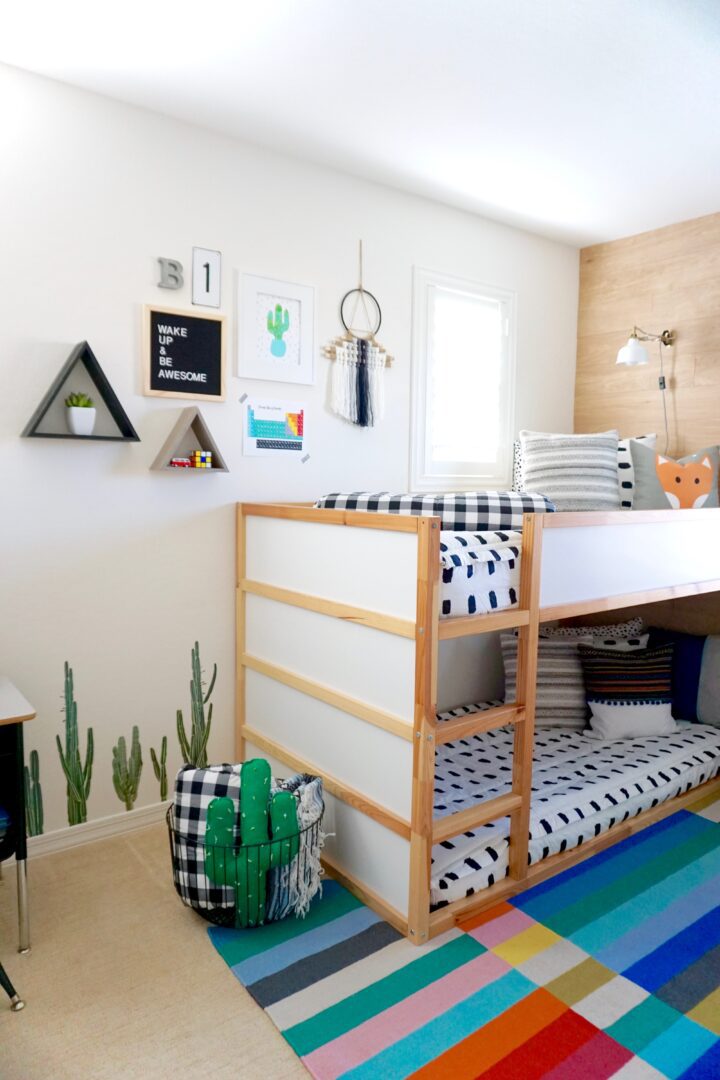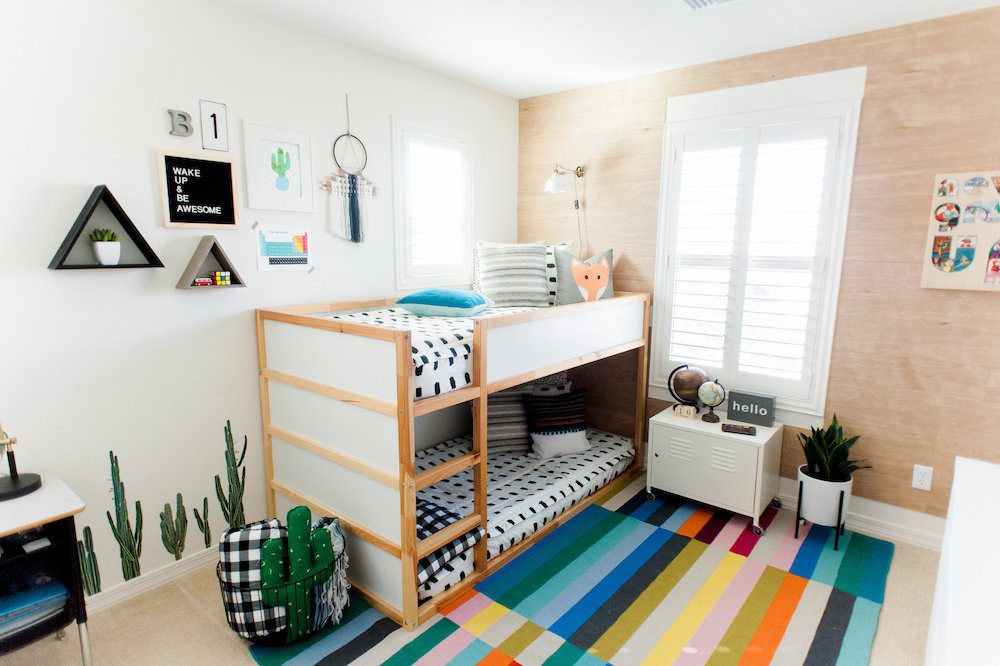 So there it is! A long awaited room reveal for my oldest…now, who's next?
Take a look and my other boy's rooms HERE and HERE